EU-Southern Africa trade deal to be signed in Botswana in May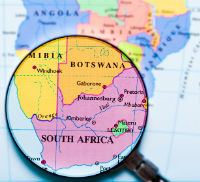 Bloomberg News | 28 October 2015
EU-Southern Africa trade deal to be signed in Botswana in May
The European Union and five Southern African Development Community states will meet in Botswana in May to sign a trade deal that has taken at least 10 years to complete.
A date for formalizing the Economic Partnership Agreement was agreed during talks in Brussels, Botswana's Trade and Industry Ministry said in an e-mailed statement Wednesday. Legal processes around the deal were completed on Oct. 23, it said.
Botswana chairs the the SADC Economic Partnership Agreement group, which
also includes Lesotho, Mozambique, Namibia, South Africa and Swaziland. Negotiations between EU and SADC states on the EPA started in 2004. While an interim agreement was signed by some regional states in June 2009, a full accord was only reached in July last year.
---