EU struggles to persuade Italy over Korea trade deal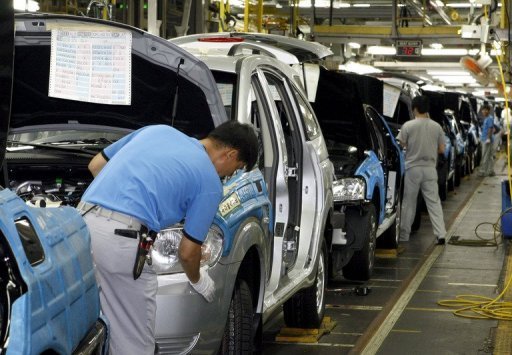 Agence France Presse | 13 Sep 2010
EU struggles to persuade Italy over Korea trade deal
By Laurent Thomet (AFP)
BRUSSELS — European partners scrambled on Monday to convince Italy to drop its opposition to a trade deal with South Korea ahead of an EU summit, as Rome fretted about the impact on its vital auto industry.
Italy stood out as the 27-nation European Union's lone holdout to the free trade pact as foreign and European affairs ministers met in Brussels ahead of the gathering of national leaders on Thursday.
Belgian Foreign Minister Steven Vanackere, whose country holds the EU's rotating presidency, said that he hoped to "see progress" as he headed to the meeting of ministers.
"We have been working since the weekend. We'll see how things happen with the Italian representative," he told reporters.
"If not today I'm convinced that by Thursday it should be possible to make an agreement (on) South Korea," said Vanackere, who expressed hope last week that a deal would be ready for a summit with Seoul in October.
But Italy was only represented by its ambassador to the EU at Monday's meeting, instead of a minister. An Italian diplomat said the presence of a minister had never been planned.
A senior European diplomat said last week delegations were concerned that Italy could try to hold out until Thursday's Brussels summit.
Rome fears its auto sector — with a particular concern for Fiat's range of small cars threatened by the lowering of tariffs on rival Hyundai models — would suffer badly under the package.
Werner Hoyer, Germany's deputy foreign minister, said the European Commission and EU member states had made "a lot of concessions for our Italian friends."
Michael Spindelegger, the Austrian foreign minister, said an offer has been on the table since Friday.
"It is up to Italy to say under which conditions it will sign up," Spindelegger told reporters. "Italy must act quickly. It is the only country still blocking the deal and we need such a deal with South Korea."
Italian Prime Minister Silvio Berlusconi is struggling on the domestic political front and Rome has warned that it could veto the deal, which requires ratification by all 27 EU member states and the European parliament.
Berlusconi "could use something to wave about back home right now," the senior diplomat said on Friday.
A compromise proposal by partners to delay the deal's implementation until April was in the offing, the diplomat said.
Two-way trade last year between the EU and South Korea was worth some 79 billion dollars (62 billion euros).
"I think it's in the interest not only of the South Koreans but also of the citizens of the European Union to create more growth, more wealth through trade," Vanackere said.
"I'm very much convinced that the propositions that we've made are reasonable and that they can lead to a good result," he said.
---