EU-US talks on free trade eyed for 2013 / Agreement would create giant market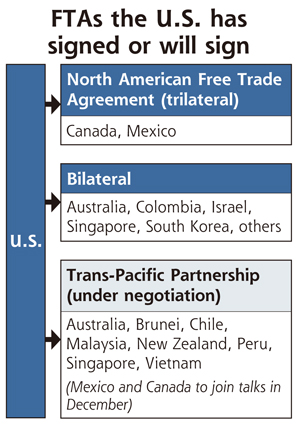 Yomiuri Shimbun | Oct. 11, 2012
EU-US talks on free trade eyed for 2013 / Agreement would create giant market
Takehito Kudo / Yomiuri Shimbun Correspondent
BRUSSELS—The European Commission hopes to start talks in the first half of next year on a comprehensive partnership agreement between the United States and the European Union, including a U.S.-EU free trade pact, according to a senior official of the commission.
The commission plans to present the proposal to EU member countries, the official said Monday. If it goes forward, the EU and the United States will take the first step toward creating a single free trade zone that would account for 50 percent of the world's gross domestic product.
The two sides agreed at a summit meeting in November to establish a framework to encourage trade and investment.
The European Commission will make a final decision on whether to propose the start of negotiations based on a final report to be compiled by a joint EU-U.S. panel. The panel's interim report released in June said an FTA would reap great benefits to both sides. The final report is expected to say the same.
If the commission presents the proposal to the EU and all 27 member countries approve it, it will be able to begin negotiations with the United States on behalf of the EU.
Karel De Gucht, a European Commission trade commissioner who serves on the joint panel as the EU representative, said in July at the European Parliament's International Trade Committee meeting that the two sides could sign an accord as early as the end of 2014 if negotiations start soon.
The European Commission views an expanded FTA as a key to bolstering growth in the EU to overcome its fiscal and financial crises.
Trade experts believe the EU may also be feeling pressure given that the United States has shifted its focus to Asia and proceeded with the multilateral Trans-Pacific Partnership agreement.
For the United States, strengthening collaboration with the EU, whose economic structures are similar to those of the United States, is expected to expand trade and increase jobs in a relatively short time.
However, the senior European Commission official said it would take three to four years to conclude an EPA between the EU and Japan, even if negotiations started in 2013.
Under the circumstances, Japan may find itself lagging behind not only South Korea, which already has an FTA with the EU, but also the United States.
A Japanese official in charge of trade talks voiced concern that talks between the EU and the United States could delay negotiations between the EU and this nation to form a pact.
"Negotiations with Japan may be given lower priority," the official said.
---