Fiji will ratify interim EPA with the European Union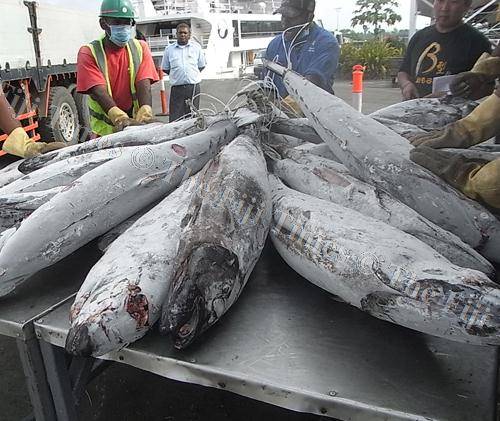 Islands Business | 15 Jul 2014
Fiji will ratify interim EPA with the European Union
SUVA, Fiji --- Fiji's done a back-flip and said yes to an interim Economic Partnership Agreement (iEPA) with the EU.
The Europeans have always insisted that to protect its tuna and sugar exports into the EU markets, Fiji would need to ratify the interim EPA it had signed with them, similar to what Papua New Guinea had done to protect its tuna exports.
But Fiji had always resisted the move, saying it would rather stick with its smaller Pacific island neighbours and push for a permanent and comprehensive EPA negotiations.
But in a statement released by the Fijian government Tuesday, Fiji's Minister for Trade and Attorney General Aiyaz Sayed Khaiyum said Fiji is ratifying its interim EPA in order to protect its exports as well as to protect Fijian jobs.
The Bainimarama Government is taking the necessary measures to ensure that preferential market access of Fiji's most important exports—sugar, fish, garments and processed foods to the EU will not be disrupted by a lapse in a trade agreement with the European Union.
"This is a significant action that preserves the favourable market conditions for the foundations of our export economy. The results are that thousands of Fijian jobs are protected and our economy will continue to grow at its fastest rate in years," said Attorney-General and Minister of Industry and Trade, Aiyaz Sayed-Khaiyum.
Specifically, the Fijian Government has approved the provisional application of the Interim Economic Partnership Agreement (EPA) with the European Union to maintain favourable market access for Fijian exports.
The Attorney-General and Minister of Industry and Trade notified his European Union (EU) counterpart, the Commissioner for Trade, informing him of the Fijian Government's decision to go forward with the Interim EPA.
Fiji's objective in the trade negotiations with the EU has always been to conclude a long term, mutually beneficial and development friendly Comprehensive EPA, rather than a shorter term interim EPA.
The minister said concluding the Comprehensive EPA, together with the rest of the Pacific ACP countries remains an urgent priority.
"A major factor working toward building confidence and securing a comprehensive agreement are the reforms instituted by the Bainimarama Government to revitalise and diversify the sugar industry, especially with regard to the improvements in the quality and productivity of Fijian Sugar," Sayed-Khaiyum said.
The Bainimarama Government has invested heavily in the sugar industry, a vital sector of the economy that supports the livelihood of over 200,000 Fijians.
The Ministry of Industry and Trade will work with its EU counterparts to assure a smooth transition to the provisional application of the Interim EPA and guarantee that there are no disruptions to exports.
---