Filipinos protest lopsided Japan-RP deal; demand disclosure of Japan-RP trade negotiations
Manila Independent Media Center
Filipinos Protest Lopsided Japan-RP Deal; Demands Disclosure of Japan-RP Trade Negotiations!
by Stop the New Round Coalition (SNR) Coalition
April 14, 2005 — "No economic partnership will ever happen with Japan taking advantage of our weaker industries and natural resources, while the Philippine government is happy with just piecemeal job creation for Filipino nurses in this blatantly lopsided trade deal."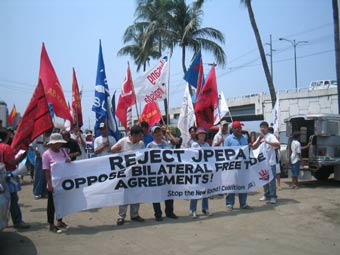 This was the statement of Joseph Purugganan from the Focus on the Global South group and member of the Stop the New Round Coalition (SNR) Coalition which held a protest rally today at the Japanese Embassy.
The SNR Coalition scored today the ongoing negotiations for a bilateral trade agreeement between the Japan and Philippine governments called Japan-Philippines Economic Partnership Agreement (JPEPA) which was to be completed and signed in July of this year.
"The JPEPA is a comprehensive bilateral economic agreement which covers all key economic activities and surpasses the scope of current WTO negotiations. It imposes blanket liberalization of trade in goods, investments and services that opens up our national economy and patrimony to Japanese economic invasion," said Millet Morante from the Kilusan para sa Pambansang Demokrasya (KPD)[Movement for National Democracy].
"Japan's obvious interest is to penetrate the local market for its industrial products and its investments and services in energy infrastructure, construction and government procurement-at the expense of Filipino-owned industries and enterprises," said Joshua Mata from the Alliance of Progressive Labor (APL).
Bong Escober of the Tambuyog Development Center also explained that "Japan has proposed that investments should not be limited within the land territory and should extend to economic activities in the exclusive economic zone or our country's marine waters and resources stretching up to 200 kilometers from its outermost islands."
Ruperto Aleroza of the Kilusang Mangingisda (KM) coalition also sounded the alarm on "the liberalization of trade and investments in fisheries through JPEPA that will only worsen the extraction and degradation of coastal and marine resources to cater to the demands of the Japanese market, and in the process exacerbate the economic dislocation of local coastal communities that depend on the resources for their food and livelihoods."
Rasti Delizo of Sanlakas group also added that "Japan's demand that amendments to the Philippine Constitution be considered to remove current provisions setting limits to foreign control of enterprises and property ownership."
The SNR Coalition vowed to hold not just protests against the 6th WTO Ministerial Meeting this year but also will struggle against any attempt to push through with trade liberalization via bilateral and regional trade agreement as WTO trade talks had already collapsed for two consecutive meetings.
---