Fishy issues in Japan-Philippine Economic Partnership Agreement (JPEPA)
Fishy issues in Japan-Philippine Economic Partnership Agreement (JPEPA)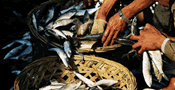 Jaime Escober, Jr., Tambuyog Development Center
31 May 2007
The Japan-Philippine Economic Partnership Agreement (JPEPA) is up for ratification by the Philippine senate this year. However, there are socio-environmental and equity issues on fisheries trade and investments that demand answers or solutions from policymakers of both countries.
The Japan-Philippine Economic Partnership Agreement (JPEPA) is a comprehensive economic agreement that puts the Philippines at a serious disadvantage. It poses several socio-environmental and equity issues that have grave implications on the well being and future of the Filipino people.
Threat of overfishing and fisheries collapse
While there is no fishery access agreement with Japan and the Philippines, Japanese commercial fishing may be allowed under JPEPA terms because in its definition of "Area" (Article 2) where investments and services may be undertaken includes the territorial waters of the country and its Exclusive Economic Zone.
It should also be noted that even without JPEPA, foreign investment is already allowed in commercial deep-sea fishing under the Philippine Foreign Investments Act of 1991, provided that foreign participation does not exceed 40 percent.
As in previous years, the fisheries sector is again listed in the 2007 list of investment priorities of the Philippine government. Alongside shrimp and other aquaculture products, tuna—a product of commercial fishing—tops the list of priority products for exports.
This is an incentive that, coupled with JPEPA, can lead to increasing commercial fishing activities in the coming years. This development will have adverse impacts on the sustainability of local marine resources that, according to experts, have reached their maximum sustainable yield back in the 1990s and are now increasingly overfished. The threat of eventual collapse of local fisheries is serious given the persistence of an open-access regime in the country.
In aquaculture, Japan has been a leading export destination of local shrimp products since the late 1980s. But the socio-environmental costs of intensive shrimp farming in the country have not been properly addressed up to the present. JPEPA says nothing about addressing such costs.
It is interesting to see if JPEPA would spur Japanese investments in local shrimp farming (and in other aquaculture products), thus helping the local shrimp industry to recover after almost 10 years now of low productivity and diseases. But again, the downside would be the threat that the massive socio-environmental costs in the 1980s and 1990s would be repeated.
Unfair JPEPA provisions: national treatment, non-transfer of technology
Certain JPEPA provisions are unfair. For instance, national treatment applies to Japanese goods, investments and services (Articles 17, 73 and 89) which means that they should be given the same and equal treatment as that received by their Filipino counterparts in the country. This treatment runs counter to current restrictions on foreign equity or ownership of enterprises under the 1987 Constitution.
Without this limit to foreign capital, local commercial fishers and aquaculture operators may be put at a serious disadvantage later on, especially because they do not have the advantage in terms of technology and neither are they subsidized like their Japanese counterparts. Japanese fisheries subsidies amount to more than US$ 2 billion yearly, the largest in the world.
Besides, there are other disadvantageous terms in the agreement. Japanese investors are not required to do the following: technology transfer, hiring of locals or local sourcing of raw materials (Article 93). The same article says no restrictions may be imposed in the sale of goods and services coming from Japanese investments.
Philippine negotiators have argued that we do not have any defensive interests in agriculture and fisheries. But the above JPEPA provisions prove otherwise; they pose a threat to both local capital and the sustainability of resources.
Protective barriers against local fishery products
Moreover, Japan remains protective of many fishery products that are caught by municipal fishers. Products like sardines, mackerel, anchovies, cuttlefish and seaweed are excluded in the JPEPA schedule of tariff reductions for Japan. In excluding these products from any commitments to tariff elimination, Japan has the option not to reduce and even increase the tariffs on these products, depending on its interests.
Why did Filipino negotiators fail to have these products included in the Japanese schedule of tariff reduction if in fact what we have is offensive interest in fisheries vis-à-vis Japan? Even before JPEPA was concluded last year, the Japanese tariff for local yellow-fin tuna was already low at 3.5 percent; and the tariff for frozen shrimp was already zero percent. What our negotiators should have worked on was to get more market access for other local fishery products in Japan; which they had failed to do.
Trade in endangered species
There is a need to further study the implication of the inclusion of manatee, dugongs, whales and dolphins in both the Philippine and Japanese schedules of tariff elimination of products. In fact, the Philippines has agreed to immediate elimination of tariffs for these marine mammals upon entry into force of the agreement.
These species may not be traded by the Philippines and Japan which are both signatories to the Convention on International Trade in Endangered Species (CITES). Japan, however, continues to fish commercially for certain endangered whale species (e.g. minke and Bryde whales) and to engage in annual hunts for dolphins and porpoises-saying that whaling and dolphin hunts (justified as a means to control dolphin populations) are part of Japanese culture.
The Philippine inclusion of these endangered species in its tariff elimination schedule cannot be simply dismissed as a technical matter. It implies that the country also regards these species as tradable, despite the prohibition under CITES and the Philippine Wildlife Resources Conservation and Protection Act (Republic Act 9147).
Related: http://www.tambuyog.org
---
Comments
31 May 2007
by ggg
NO GATS FRIENDS: JPEPA問題について外務省に質問をしました
kongyeesaimau.blog32.fc2.com/blog-entry-96.html
日・フィリピン経済連携協定(JPEPA)問題
www.geocities.co.jp/SweetHome-Ivory/9660/jpepa/index.html
2006 年 11 月 29 日 市民団体共同プレスリリース
関税削減リストから全ての廃棄物を削除すべき
www.geocities.co.jp/SweetHome-Ivory/9660/jpepa/20061129_jpepa_press.pdf
経済連携協定(EPA)化学物質問題市民研究会
www.ne.jp/asahi/kagaku/pico/basel/JPEA/jpepa.html
further info on FTAs: bilaterals.org
—
02 Jun 2007
by Jim Santos
The provisions in JPEPA that would allow Japanese fishing fleets to fish for tuna, sharks, whale, all other marine fishes and crustaceans without any restriction or quota on quantity of catch, plus national treatment (equal treatment as Filipino fishermen) for Japanese fishermen fishing in Philippine waters and EEZ's (200 mile exclusive economic zone) can be found in Article 28 & 29, Chapter 3 of JPEPA. It also allow deployment of factory ships in Philippine waters. Certainly, on this aspect alone, it is a one-sided agreement. Who is in his right mind would think that Philippine domestic fishing fleets (mostly second hands) could access Japan's territorial waters to fish for tuna or other marine fishes?
—
07 Jun 2007
by Luis
Articles 28 and 29 refer to rules on the origin of goods, such as fish originating from the ships of one party, which may be caught in territories outside of one party. But these provisions say nothing about fishing in the territorial waters of the other party.
—
04 Jul 2007
by Jim Santos
JPEPA including its Annexes consists of more than 900 pages - a complex agreement with so many references on other international trade agreements (GATT, WTO, etc). To understand the implications of Art 28 & 29 on rules of origin, it shall be read in conjunction with Art. 2 mentioned in above write up. To elucidate, Art. 2 provides that JPEPA's coverage extends to territorial waters including EEZs of the parties (Phils and Japan) and that both parties is given access to it. Under Art. 28 & 29, it provides that fishing vessels/factory ships of either party can extract/catch any marine and submarine resources found within the territory of the other party with the extracting/catching party given national treatment or "as if it is their own territory".
With pronounced shortage of tuna in Japan due to overfishing which brought panic and increasing prices, is it not the best oppurtunity for Japanese commercial fishing to pre-position themselves in Phils and benefit from it (instead of other countries)?
---