France bolsters Moroccan ties as free trade grows
20 March 2006
France bolsters Moroccan ties as free trade grows
Tom Pfeiffer, Reuters
France is pushing to maintain strong economic ties with former protectorate Morocco even as the North African kingdom tries to draw more foreign investors by lowering barriers to trade and investment.
Morocco has sealed free trade deals with the United States and Turkey and is negotiating accords with nine west African states, the Latin American Mercosur region, Tunisia, Jordan and Egypt.
The moves are part of wider efforts to stimulate foreign investment and open new markets for Moroccan products, boost economic growth and cut unemployment.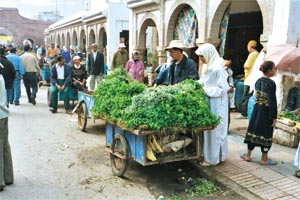 But France remains the key foreign player in Morocco's economy by far, accounting for about a fifth of imports, 56 per cent of direct foreign investment and 60 per cent of bilateral aid.
Its share of trade with Morocco is five times greater than that of the United States and its share of investments close to 10 times higher.
"Morocco has suffered from a concentration on one geographic zone... for its trade exchanges," Moroccan industry and trade minister Salaheddine Mezouar told Reuters recently.
"We are in a process of maximising our advantages and opportunities and it's all the better for Morocco and all the better for its partners."
But half a century after the last Resident-General returned to France, the colonial legacy looms large.
French is still used alongside Arabic among government officials, in newspapers, advertisements and government documents, to announce train times and to relay the news. Millions of Moroccans watch French television and drive French cars.
Rabat's ties with Paris have remained strong, unlike neighbour Algeria which has kept a distance from its former occupier since a traumatic war for independence.
Although Morocco is gradually replacing French road signs and renaming streets and squares with Arab names, France has worked hard to retain its influence and a gleaming French Institute in the heart of the capital bolsters its presence.
A third of tourists to Morocco are French and France is home to 800,000 Moroccans, guaranteeing a constant cultural exchange.
Like their French counterparts, Morocco's top civil servants are trained at a National School of Administration (ENA) which receives regular visits from French academics.
"All in all, our two administrations share very widely men, ideas and experience," said French Ambassador Philippe Faure.
The French government estimates that 800 businesses in Morocco are either part of French firms or run by French people.
Renault assembles its Logan model for emerging markets in Morocco, while Valeo assembles vehicle parts, and components for the Airbus A380 superjumbo are made in factories near Rabat, Casablanca and Tangier.
The US has taken a growing interest in France's zone of influence in Africa as it seeks sources of energy to reduce its dependence on Middle Eastern oil.
To stop its own presence waning, Paris has redoubled its diplomatic efforts. Fifteen government ministers visited the country in 2005 and France's embassy in Rabat is about the same size as its Washington mission.
France's future presence is guaranteed, officials say, as many upcoming investment projects are in industries where its companies are leading players - tram systems in Rabat and Casablanca, high-speed rail lines and power stations.
Construction firm Bouygues has a central role in perhaps the country's most ambitious redevelopment initiative - the Tanger-Med port and industrial complex in Tangier.
Suez, which is already operating a 30-year utility concession in the financial capital Casablanca, will face the stiffest competition from compatriot Veolia when vying for a similar deal in the tourist city of Marrakesh.
French business managers say their industrial presence in the kingdom means they are well placed to benefit if a long-delayed Mediterranean common market comes about.
"What exists to the North of the Mediterranean will one day exist around the Mediterranean and that is a very big opportunity that must be seized," said Jean-Marie Grosbois, managing director of drinks firm Groupe des Brasseries du Maroc.
And analysts say free trade will bring more opportunities than risks for French firms, for example allowing them to import cheap materials from China to supply their factories in Morocco.
"There are real opportunities for France and Morocco, even if it will mean modifying their commercial structures," said Bernard Paranque, professor at Euromed business school in Marseilles.
---