Free trade agreement with the EU on the horizon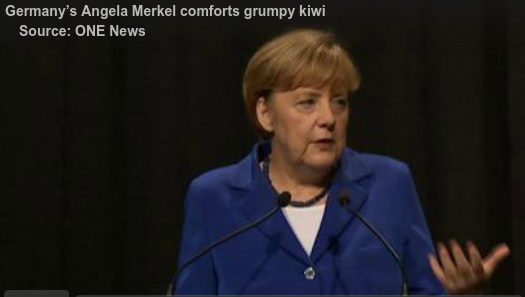 ONE News | November 14, 2014
Free trade agreement with the EU on the horizon
German Chancellor Angela Merkel says she is in favour of a free trade agreement between New Zealand and the European Union.
The agreement is also something Prime Minister John Key has indicated he wants, as the pair spoke at a joint press conference in Auckland today.
The German leader is visiting, alongside Canada's Prime Minister Stephen Harper, ahead of the G20 summit in Brisbane at the weekend.
Mr Key says two way trade with Germany is now bigger than two way trade with the United Kingdom.
He says he "talked with the Chancellor today about our aspirations for a free trade agreement with the EU".
Later in the conference, Mr Key also added he aims to have free trade welcomed by the members of the G20.
Ms Merkel today said she was "impressed by the business hub of Auckland".
Angela Merkel 'I think NZ has shown tremendous growth'
"You have experienced such impressive growth because you're so open minded. You have open trade with the whole word and we're gratified to know you have close relations with Germany."
The pair said they spoke about other international matters, including Ukraine, the "challenges of fighting terrorism", the civil war in Syria, the Islamic State and other conflicts.
Ms Merkel also thanked New Zealand for joining Germany in imposing sanctions on Russia for their "violation of territorial integrity".
She then invited Mr Key to Germany, saying she would "very gladly see you as my honoured guest".
"I want to build on this bilateral relationship," she added.
---