Free trade pact with EU near
Gulf news 03/21/2006
Free trade pact with EU near
By Stanley Carvalho, Staff Reporter
Abu Dhabi: The Gulf Cooperation Council and the European Union are close to sealing a free trade agreement after outstanding issues, including EU tariffs on exports of aluminium and petrochemicals, were resolved last week, a UAE ministry official said yesterday.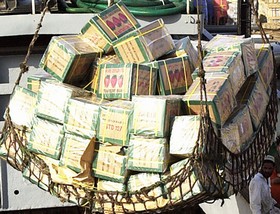 Abdullah Ahmad Al Saleh, assistant undersecretary in the Ministry of Economy, said both sides agreed on many issues in Brussels and a few outstanding issues will be thrashed out next month in Riyadh.
"In principle, both sides have agreed that GCC exports of aluminium and petrochemicals will have zero tariffs from day one of the enforcement of the agreement but this will be finalised in Riyadh at next month's talks," he said.
"We are hopeful that would be the last round of talks," said Al Saleh who headed the UAE team, adding "the two sides have reached an agreement on all political issues."
GCC exports to the EU crossed $116 billion in the first nine months of 2005 compared with $112 billion in 2004.
He said the EU sought an explanation on GCC states signing unilateral FTAs with some countries such as the United States. "We told the EU that such unilateral agreements are matters concerning the GCC and it is dictated by the interests of the member states and they would not have any negative impact on the EU."
The GCC also emphasised the importance of taking into account the differences in economic advancement of the two sides and that the FTA should bring about a balance in trade, which currently is in favour of the EU.
"The GCC is keen on concluding the FTA at the earliest because negotiations have taken a long time and we do not want to prolong them. Hence, three rounds of talks were held between April 2005 and March 2006."
Al Saleh said the EU made a demand for opening up all the services sectors in the GCC
"But the GCC sought reciprocity for mutual benefits. If the EU wants equal treatment for their companies here then our companies should be given a similar treatment.
"However, we generally agreed that both sides would undertake obligations that would go beyond the obligations under the WTO."
The outstanding issues pertain to rules of origin and an offer from both sides on services and disputes settlement.
"But if we cannot agree on these issues then a ministerial level decision needs to be taken," he said.
---