Gambia dropped from US trade program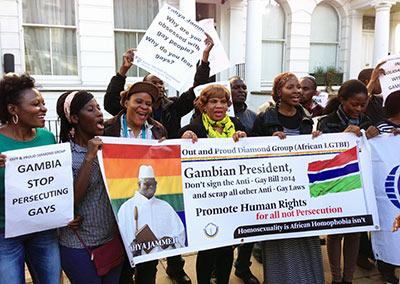 Washington Blade | December 24, 2014
Gambia dropped from U.S. trade program
by Michael K. Lavers
The Obama administration on Tuesday announced Gambia is no longer eligible to take part in a duty-free trade program amid growing concerns over the country's LGBT crackdown and other human rights abuses.
Reuters reported the U.S. will also drop South Sudan from the African Growth and Opportunity Act, a law then-President Bill Clinton signed in 2000 that allows sub-Saharan African countries to access U.S. markets. The news agency said the Obama administration will allow Guinea-Bissau to rejoin the program.
The changes take effect on Jan. 1.
Ned Price, a spokesperson for the National Security Council, noted to the Washington Blade late on Tuesday that Gambian President Yahya Jammeh in October signed a law under which those convicted of "aggravated homosexuality" face life in prison.
Reuters earlier this week reported Gambian authorities recently arrested three men they said engaged in same-sex sexual relations. It appears the White House had already decided to drop Gambia from the African Growth and Opportunity Act when the aforementioned report emerged.
"The U.S. Trade Representative has been monitoring the human rights situation in the Gambia for the past few years, with deepening concerns about the lack of progress with respect to human rights, rule of law, political pluralism, and the right to due process," said Price.
"Reports have surfaced of arrests, detention and torture of individuals because of their perceived sexual orientation or gender identity," he added.
Jammeh described gay men as 'vermin' in speech
Gambia is a small, predominantly Muslim West African country nestled between Senegal along the Gambian River.
Jammeh came to power in a 1994 military coup.
He said during a 2013 speech at the U.N. General Assembly that homosexuality is among the three "biggest threats to human existence." Jammeh earlier this year described gay men as "vermin" during a speech that commemorated Gambia's independence from the U.K.
The European Union earlier this year delayed a 150 million euro aid package to the country after Jammeh failed to implement 17 reforms that include the repeal of the death penalty.
Gambian activists and their supporters who took part in a panel at Robert F. Kennedy Human Rights in Northwest D.C. earlier this month criticized the White House over what they contend is an insufficient response to anti-LGBT persecution and other human rights abuses in their homeland.
They noted Obama in August invited Jammeh to the White House during a summit that drew dozens of African heads of state to the nation's capital. The activists nevertheless welcomed the White House's decision to drop Gambia from the African Growth and Opportunity Act.
Jean Freedberg of the Human Rights Campaign also applauded the White House's announcement.
"This decision is an important first step in sending a clear signal to President Yahya Jammeh and his associates about their human rights record, and they cannot be allowed to trample on the rights of LGBT Gambians," she said in a statement. "The U.S. government should not move forward with business as usual with the Gambia when LGBT people are harassed, imprisoned, tortured, or even killed because of who they are."
Jeffrey Smith of Robert F. Kennedy Human Rights agreed, while noting he feels the Obama administration should do more to punish Jammeh's government.
"Revoking Gambia's AGOA eligibility status is absolutely a step in the right direction, but additional steps should be taken to help encourage respect for basic human rights and fundamental freedoms in the country," Smith told the Blade. "One should recall that President Jammeh's crackdown on the Gambia's LGBT community is part of a much broader spectrum of human rights abuses that have been perpetrated with impunity for two decades. It's also important to know that the targeted crackdown is meant to deflect attention away from the Jammeh regime's massive failures, including a sputtering economy, the loss of financial backers including the EU and Taiwan, and the very real danger of food shortages and potential famine."
---