Ghana to sign interim EPA with EU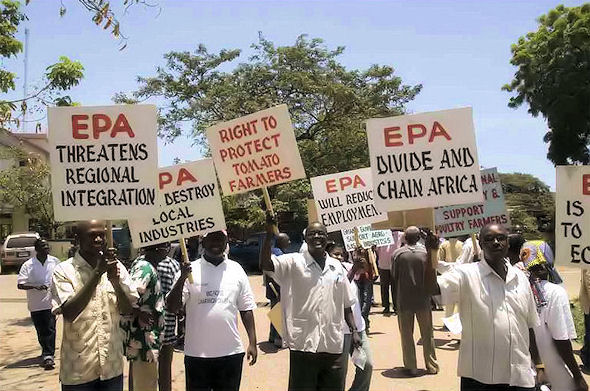 Footprint to Africa | 26 July 2016
Ghana to sign interim EPA with EU
By Pomeyie Caroline
Dr. Ekwow Spio Garbrah, the Minister of Trade and Industry, has revealed the cabinet's intention to sign the interim Economic Partnership Agreement (EPA) with the European Union (EU).
He says, "It is because the EPA agreement itself which the European Union signed with ECOWAS as a group required all members to sign to become valid."
Although Gambia and Nigeria refuses to sign the agreement, Dr. Spio Garbrah explains that Ghana may suffer severe sanctions that will impact on processing companies especially Pioneer foods and Cocoa processing companies that trade with the EU.
With that the cabinet has decided to sign the interim agreement so Ghanaian exporters can continue to enjoy special privileges. He again noted that the fishing industry will collapse if the agreement is not signed. The deadline for the signing of the agreement is 1st of October this year.
"The Europeans also have to agree to the fact that Ghana needs only an interim agreement. So there is a little bit of collaboration and coordination, consultation and diplomacy that is going to go back and forth over the next few months," he said.
He assured that the agreement will be signed soon. The signing of the interim agreement will allow 100 per cent access to the European market for exporting in exception of rice and sugar while EU countries will have 75 per cent access to the Ghanaian market duty free and quota free.
Some West African countries (Gambia and Nigeria) have refused to sign the agreement causing a delay in concluding the negotiation.
President Mahama has assured Cote D'Ivoire that signing the EPA will not affect its trade relations. "With regards to the EPA, both our countries have interim economic partnership agreement with the European Union. We had hoped that we should be able to negotiate an ECOWAS-wide EPA but unfortunately due to the Non Signature of the EPA by Nigeria and Gambia, it is obvious that Cote D'lvoire and Ghana have to enter into some transitional arrangements in order that our economies will not suffer. But even in those circumstances we will continue to work hard so that the whole sub region can have a partnership agreement so that we are able to advance our integration," he stated.
---