Gov't to prop up milk industry as FTA kicks in
Yonhap | March 08, 2010
Gov't to prop up milk industry as FTA kicks in
'The comprehensive plan is aimed at alleviating concerns of local dairy farmers.'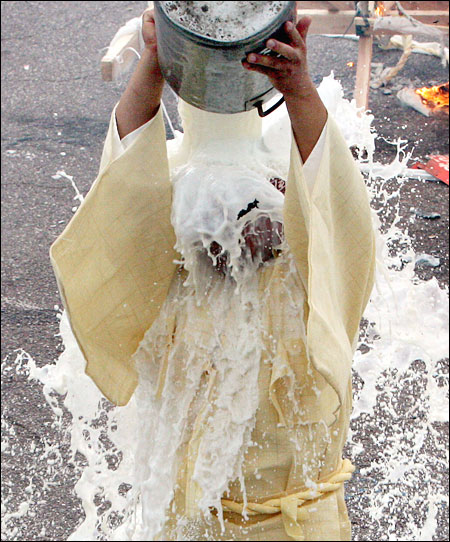 Korea will maintain 2 million tons of milk production annually to help the local dairy industry deal with an influx of imports once a free trade pact with the European Union (EU) goes into effect, the government said yesterday.
The comprehensive support plan by the Ministry for Food, Agriculture, Forestry and Fisheries calls for 30 billion won ($26.2 million) to be set aside so the government can buy milk from dairy farmers to sustain prices.
In 2009, local dairy farmers produced 2.11 million tons of fresh milk, but if the free trade agreement with the EU is ratified around April as anticipated, there may be a surge in imports that could hurt local producers.
The country requires 1.6 million tons of fresh milk per year, which cannot be imported from the EU due to milk's short shelf life.
Another 200,000 tons of milk is needed to make powdered milk.
In addition, a further 200,000 tons is used to make premium quality yogurts, cheeses, baby formulas and ice cream, which are less affected by the higher price of locally produced milk.
"In effect, the comprehensive plan is aimed at alleviating concerns of local dairy farmers who fear they will be pushed aside by the EU FTA," a ministry official said.
He said the amount of the government funds is within the World Trade Organization's "Green Box," or permitted subsidies designed to help shield local industries from imports.
Local dairy production stands at 1.6 trillion won, so even if Korea is classified as an industrialized nation in the ongoing WTO trade talks, it is allowed to give 80 billion won worth of subsidies, or 5 percent of total production, to dairy farmers.
The official, meanwhile, said that a separate budget of 12.6 billion won will be used annually to help upgrade production facilities at dairy farms.
Besides such measures, the ministry said it will increase free milk deliveries to schools and encourage up to 370,000 hectares (914,000 acres) of farmland to be used to raise feed crops for cattle.
Local production of barley, hay and other plants can cut costs for dairy farmers who rely heavily on imported feed products.
---