In Burkina Faso, the business community is wondering about the AfCFTA
All the versions of this article: [English] [français]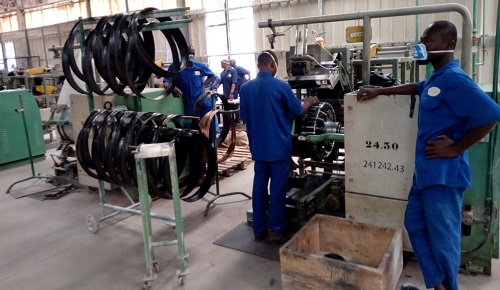 RFI | 14 October 2019
In Burkina Faso, the business community is wondering about the AfCFTA
By Yaya Boudani
Freely translated by Jacques Berthelot
In Burkina Faso, economic operators gathered within the Investors Without Borders Association are learning about the challenges of implementing the African Continental Free Trade Area (AfCFTA), launched in June 2019 by African heads of state.
Many businessmen are concerned about this vast commercial space of more than a billion people. Even if this market will only be active in July 2020. It will enable Burkina Faso to increase its exports by 12%, according to forecasts, the issues and challenges of the AfCFTA were therefore recently at the heart of their economic recovery.
with added comments by Jacques Berthelot, economist
This optimism is hardly justified because Burkina's trade deficit with Africa increased by 84.7% from 2015 to 2018 (from $379 million to $699 million), as exports increased by only 16.3% when imports increased by 50.4%. In addition, Burkina's exports to Africa represent a decreasing percentage of its exports to the world (from 17.2% to 13.5%) even if the percentage of imports from Africa is slightly increasing (from 24.7% to 26.6%) although it has been decreasing since 2009 (33.1%). What is clear is that Burkina Faso's trade is concentrated in West Africa (WA) since the share of its exports to WA in relation to its exports to Africa increased from 76.2% in 2015 to 97.4% in 2018 while the share of its imports from WA increased from 75.5% to 81.3% but in fact this share has remained almost constant around 81% since 2009.
Similarly, the 16 WA States have every interest in prioritizing regional trade over the mirage of premature continental integration, already for purely commercial reasons. Given the interannual variations, it is preferable to compare total trade (imports + exports) over 3-years periods and the share of total intra-WA trade in total trade with Africa has increased from 45.7% in 2010-12 to 64.1% in 2016-18. This should put an end to the chimera of the AfCFTA. Clearly, Burkina Faso and all WA countries have a clear interest in concentrating on their internal trade by strengthening regional integration, which also requires that ECOWAS denounces the interim EPAs of Côte d'Ivoire and Ghana, which are destroying regional integration (Read J. Berthelot: "Did you say FREE trade? The European Union-West Africa Economic Partnership Agreement", L'Harmattan, September 2018).
---