India and the EU get close to revive talks on proposed free trade agreement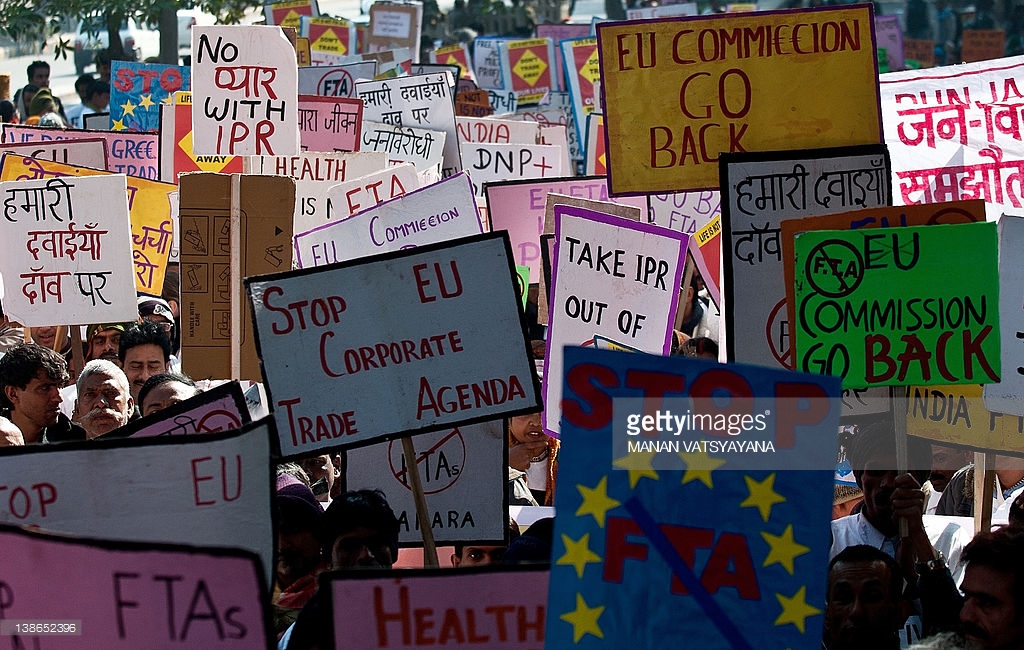 European Sting | 10 April 2018
India and the EU get close to revive talks on proposed free trade agreement
by Carlo Motta
At a moment in history, where US "trade war" is targeting China and protectionism is on the rise, there's one country that has the potential to gain momentum on the stage of international trade: India. New Delhi has indeed the potential to write a totally new chapter of its history of trade with the West, as it is preparing to accelerate talks on a Free trade pact with the European Union. Senior officials from the two fronts are meeting in Brussels this week to try and revive the negotiations, which have been stalled for long. Substantial difference and open questions remain, but it looks like Brussels and the Asian giant are closer than even before.
Background
The EU and India are currently officially committed "to further increase their bilateral trade and investment" through the Free Trade Agreement negotiations that were launched in 2007. Since June 2007, both the sides have completed 16 rounds of talks and five stock-taking meetings on the proposed pact, officially dubbed as Bilateral Trade and Investment Agreement (BTIA). The negotiations for the pact have been held up since May 2013, hanging on some substantial gaps on crucial issues such as intellectual property rights, duty cut in automobile and spirits, and liberal visa regime.
Re-launch of negotiations
Last month, when a European Investment Banking delegation signed a historic loan to support solar investment in India, it became clear that the conversations between the EU and the Asian country were likely to revamp soon. French President Emmanuel Macron's presence in New Delhi, when he co-chaired the first edition of the International Solar Alliance summit with Indian Prime Minister Narendra Modi at the beginning of March, has also raised hopes for the revival of negotiations on a free trade pact between India and Brussels. He and Mr. Modi indeed openly expressed their support to increase bilateral cooperation and to "timely relaunching" of negotiations on an India-EU free trade agreement.
At the end of last month then Indian Commerce and Industry Minister Suresh Prabhu indicated that negotiations on long-stalled free trade pact between India and the European Union could "resume soon". "We have started working on India-EU FTA (free trade agreement) again. We have invited them and are looking at it," the minister said at an event on March 26, a couple of weeks after Mr. Macron's visit.
12 April meeting
Minister Prabhu's words then assumed significance as, just a few days later, senior officials of India and EU announced they will meet in Brussels this week. In the April 12 meeting, India and the EU are purportedly expected to deliberate upon the long-stalled negotiations on the proposed trade pact, and to try and iron out differences. Which is something the two front have been chasing for long.
Key points
Discussions between Brussels and New Delhi are currently focused on key outstanding issues that include improved market access for some goods and services, government procurement, geographical indications, sound investment protection rules, and sustainable development. Brussels formally recognizes that India has embarked on a process of economic reform and progressive integration with the global economy, but a final agreement with the Asian giant is still pretty far. In general, the EU considers India's trade regime and regulatory environment still very restrictive. Besides demanding significant duty cuts in automobiles, the EU also wants India's import duties on wines and spirits and dairy products substantially reduced, and a strong intellectual property regime. European banks are also wary of India's restrictive rules on priority sector lending and obligation on financial inclusion.
On the other hand, India is asking to granted data secure nation status by the EU, which is something difficult at the time being, as India is among the nations not considered as data secure by the Brussels. The matter is particularly important for all those Indian IT companies currently wanting market access, and for the prohibitive costs of compliance with the existing data protection laws the Asian country currently faces. Also, India claims there are still many barriers to movement of professionals including rules on work permits, wage parity conditions, visa formalities and non-recognition of professional qualifications.
Size of the game
The potential of the opportunity is huge. The total value of EU-India trade stood at €77.5 billion in 2015. The EU is currently India's largest trading partner, accounting for 13% of India's overall trade, ahead of China (9.6%) and the United States (8.5%). India is the EU's 9th largest partner, (2.2% of EU's overall trade with the world), after South Korea, 2.5%, and ahead of Canada, 1.9%). with the value of EU exports to India amounting to €38.1 billion in 2015.
The value of EU exports to India grew from €24.2 billion in 2006 to €37.8 billion in 2016, with engineering goods, gems and jewellery, other manufactured goods and chemicals ranking at the top. The value of EU imports from India also increased from €22.6 billion in 2006 to €39.3 billion in 2016, with at the top textiles and clothing, chemicals and engineering goods.
---