India considers reviving FTA talks with Gulf Cooperation Council
The Economic Times | 10 April 2021
India considers reviving FTA talks with Gulf Cooperation Council
By Kirtika Suneja
India is reconsidering a free trade agreement (FTA) with the Gulf Cooperation Council (GCC) after the United Arab Emirates (UAE), the country's biggest trading member in the bloc, approached it to revive talks that got stalled in 2008.
Early analysis has identified about 1,100 products, including washing machines, ACs, refrigerators, spices, tobacco, cotton fabrics, textiles and leather that can see higher exports through the pact.
Officials said the UAE had reached out to revive the talks.
"We are still considering the feasibility of an FTA. It is in the preliminary stage," said one of them.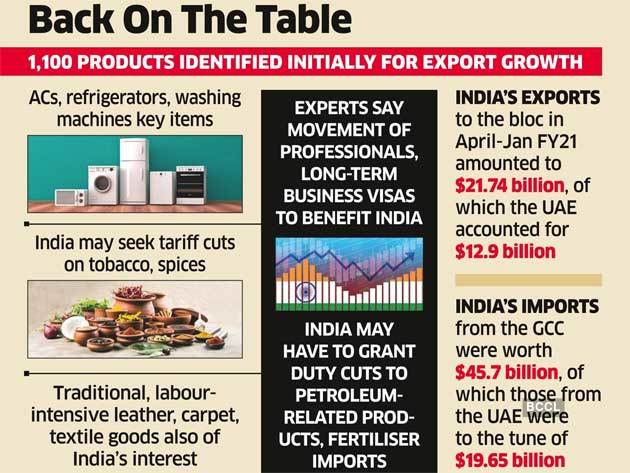 Two rounds of negotiations were held between India and the GCC on the feasibility of a free trade agreement, but talks stopped after the latter began a review of its negotiations with all countries and economic groups.
"We were negotiating an FTA with the GCC, but they had some issues. Now, they have approached us to revive the talks," the official added.
As per the official, India is keen to increase its exports to the UAE, the country's largest market in the GCC. The other countries in the group are Saudi Arabia, Kuwait, Oman, Qatar and Bahrain.
In FY21, India imported goods worth $80.5 billion from GCC countries, while exports amounted to $40.5 billion. About half this trade is with the UAE.
India's exports to the bloc in April-January FY21 amounted to $21.74 billion, of which the UAE accounted for $12.9 billion with the main items being mineral fuels, apparel, gems and jewellery, and electrical machinery. During the same period, India's imports from the GCC were worth $45.7 billion, of which those from the UAE were to the tune of $19.65 billion.
As per industry experts, products made of leather, plastic, and iron and steel could also help increase India's exports to the UAE, while New Delhi may have to give tariff concessions to imports of petroleum-related products and fertilisers.
A Framework Agreement on Economic Cooperation between India and the GCC was signed in 2004 that provided for both the parties to consider ways and means to extend and liberalise trade relations besides initiating discussions on the feasibility of an FTA. Two rounds of negotiations were held —in 2006 and 2008. India stands to gain in services as well and could push for long-term business visas with the UAE, experts said.
"We have a geographic advantage with that region and a lot of business travel happens. Long-term business visas will be beneficial for India," said an expert on trade issues.
Easier movement of professionals, called Mode 4 in trade parlance, could also be among India's demands, the expert said. Movement of natural persons is one of the four ways through which services can be supplied internationally. It includes movement of natural persons such as independent professionals and is of key interest to India in its global trade relations.
---