Indian People's Protests against EU-India FTA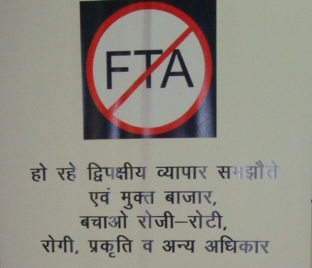 28 April 2010
ALERT!! ALERT!! ALERT!! ALERT!! PROTEST AGAINST THE EU-INDIA FTA
Friends and colleagues,
Indian negotiators are sitting in Brussels today to commence the final round of negotiations with the European Union on the EU-India Free Trade Agreement. The FTA negotiations have been shrouded in secrecy even though they will require amendments in Indian legislations which can seriously impact agriculture, domestic production of medicines, environmental safety, labour rights and livelihoods, among others. However, repeated requests for consultations and transparency on the FTA have gone unheard. Our government has stated that it wants to sign this FTA in October this year. We must raise our voices against these negotiations NOW!
Groups working on issues related to labour, agriculture, livelihoods, health, right to food, right to information and others are coming together to raise their voices in protest in front of the Commerce Ministry that is negotiating this FTA without any mandate from the Indian Parliament or the Indian People.
PROTEST NOW!
WHERE: UDYOG BHAVAN, NEW DELHI
WHEN: 30 April 2010, 11 am – 1pm
Join the protest and bring your banners and slogans!
Forum against FTAs
www.forumagainstftas.org
---