Indigenous leaders declare hunger strike in Peruvian Congress to protest FTA decrees
Prism Webcast News | Saturday, May 9, 2009
Indigenous Leaders Declare Hunger Strike in Peruvian Congress to Protest FTA Decrees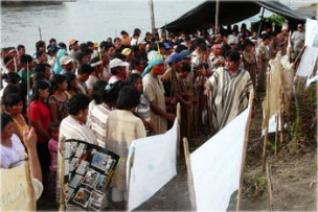 As the Peruvian government declared a state of emergency in the face of one month long indigenous protests, 42 indigenous leaders have entered the Peruvian Congress to announce a hunger strike until the issue of a repeal of decrees affecting the territorial rights of indigenous peoples in the Amazon is debated by the full legislature.
The decrees, which were passed to facilitate the Free Trade Agreement with the United States, facilitate the transfer of Amazon land and resource rights to oil, mining, logging and agricultural companies to the detriment of indigenous and campesino inhabitants. They also set the stage for the privatization of water resources.
In further pressure on the Alan Garcia administration, eight Peruvian Catholic bishops have added their voices to the call to repeal the decrees, calling them a "threat" to the Amazon and the rights of its residents.
The laws "do not promote the integral development of the Amazonian populations," said a strongly-worded statement issued by the bishops. "On the contrary they threaten to increase regional poverty. In a twisted concept of development, the State allows for the deforestation of large areas of primary rainforest for the benefit of national and transnational companies ... Everyone knows about the contamination of rivers by irresponsible mining and oil extraction activity."
The bishop's statement ended saying that the government had to date "given the impression it has no intention of seeking a dialogue to find solutions" to the crisis.
Gregor MacLennan from Amazon Watch commented, "In fact, during the month-long protest, the Garcia government has signed contracts for another 15 oil concessions - the majority of them in the Amazon. The message couldn't be clearer. The Garcia government is leading Peru into the dark ages in matters of indigenous peoples' rights."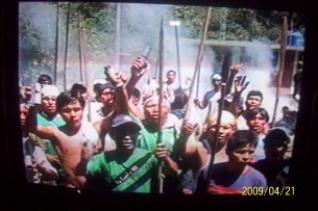 Miguel Palacín Quispe, the General Coordinator of the regional indigenous organization CAOI, said that although the presidential decrees had been deemed unconstitutional, Congress had not debated them. He added that the government's recent declaration of a state of emergency would "open the doors to the repression of the indigenous mobilization in defense of rights recognized by the Constitution, by Convention 169 of the International Labor Organization, and by the United Nations Declaration on the Rights of Indigenous Peoples."
Since the state of emergency was declared, naval gunboats have been reportedly sounding their sirens and speeding through areas of the Curaray River deliberately inundating fragile canoes in their wake.
AIDESEP, the leading indigenous rights organization in Peru, this week issued a statement condemning such maneuvers by the government against members of the Kichua and Arabela communities along the Napo River. It also denounced the closing of Radio Libertad by the Transport & Communications Ministry, which was the only source of information on the protests available to residents in the city of Atalaya.
"There is no justification for what we are seeing", commented journalist John Vargas Sangama from La Voz de la Selva who has been covering the protests in the Napo River basin. "The indigenous protestors have at all times been non-violent."
###
The hunger strike participants come from the following indigenous organizations:
– Coordinadora Andina de Organizaciones Indígenas, CAOI
– Confederación Nacional de Comunidades del Perú Afectadas por la Minería, CONACAMI Perú
– Asociación Interétnica de Desarrollo de la Selva Peruana, AIDESEP
– Confederación Campesina del Perú, CCP
– Confederación Nacional Agraria, CNA
– Asociación Nacional de Maestros de Educación Intercultural Bilingüe, ANAMEBI Perú
– Organizaciones indígenas, agrarias y campesinas regionales
– Movimiento Cumbre de los Pueblos, MCP
Click HERE for full Spanish text of the COORDINADORA ANDINA DE ORGANIZACIONES INDÍGENAS - CAOI (Bolivia, Ecuador, Peru, Colombia, Chile, Argentina)
---