Indonesia and Algeria step up trade and investment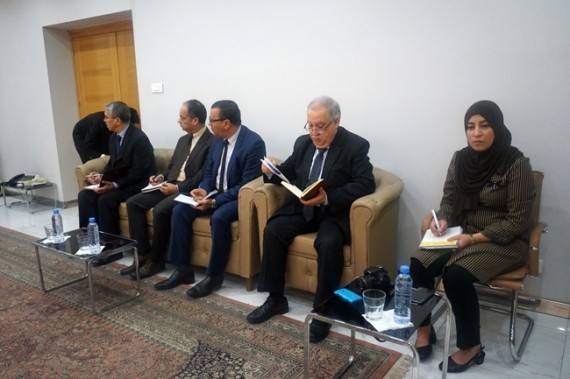 Jakarta Post | 28 November 2018
Indonesia and Algeria step up trade and investment
Indonesia and Algeria have made a commitment to increase bilateral trade and investment. The two countries – Indonesia in Southeast Asia and Algeria in North Africa – have economic ties that go a long way back.
Algeria ranks sixth on the list of Indonesia's biggest export destinations in Africa and is the fourth-biggest African exporter to Indonesia – both according to 2017 statistics. On the list of Indonesia's trading partners at the global level, meanwhile, Algeria ranked 46th as an export destination for Indonesia and 41st as an exporter to Indonesia.
The two countries announced their renewed commitment after Indonesian Trade Minister Enggartiasto Lukita conducted a bilateral meeting with Algerian Industry and Mining Minister Youcef Yousfi in the city of Algiers on Nov. 22.
During his visit to the country, Enggartiasto also conducted a meeting with Algerian Chamber of Commerce and Industry Chairman Mohamed Laid Benamor, who is also active as a prominent business practitioner in his country.
Benamor asserted that business practitioners in both countries were yet to grasp the huge economic potential that both countries could use to benefit each other. Enggartiasto responded by saying that the needs of Indonesia and Algeria actually overlapped with one another, thereby opening up opportunities for partnerships.
Algeria and Indonesia could work together to boost each other's economic growth by tapping into each country's strong economic potential. For instance, Indonesia could benefit from Algeria's status as a North African business hub, while Algeria could make use of Indonesia's status as a big Southeast Asian country.
In addition to that, both sides of the equation could work together in a mutually beneficial cooperation, as Indonesia has ample natural and human resources, which are needed by Algeria, which is actively seeking not only business partners but also a potential market for its products.
"Algeria prioritizes a number of industrial sectors, including food processing and textiles. I have told them that Indonesia has a great resource capacity and have requested that the Algerian government facilitate Indonesian investment in the country," Enggartiasto said.
On Nov. 21, a day before Enggartiasto conducted the meeting with Said Djellab, he had already held a bilateral meeting with Algerian Trade Minister Said Djellab. The two discussed a number of concrete efforts their countries could take to step up their trade relations. For instance, Djellab said Algeria could learn from Indonesia about how to diversify away from oil and gas products, because Algeria had been relying too much on oil and gas products in its trading activities.
"We have explored a number of action plans to boost non-oil and gas trade activities between the two countries. One of the steps we can take to achieve that goal is intensifying activities that promote trade between the two countries, as well as boosting the capacity of our small-to-medium enterprises," Enggartiasto said.
Enggartiasto said activities that could promote trade between the two countries included inviting Algerian business players to attend business forums and exhibitions during the annual Indonesian Trade Expo to identify companies that had the greatest business partnership potential.
"I would like to invite the Algerian trade minister as well as the industry and mining minister to pay a visit to Indonesia. [I would also like Indonesia and Algeria] to get to know each other's products, learn from one another and, if there are investors who would like to forge investment partnerships with Indonesia, we can arrange factory visits for them," Enggartiasto said.
"Indonesia expects the Algerian government to provide the country's businesspeople who have invested there with [easy business procedures] as well as economic certainty. These two things are extremely important to boost export volumes, whether processed products or raw materials, from Indonesia to Algeria, as well as the deployment of Indonesian professionals to Algeria to process the raw materials," Enggartiasto said.
According to Enggartiasto, two Indonesian companies are currently invested in Algeria, namely state-owned energy company Pertamina as well as state-owned construction company PT Wijaya Karya. Indonesian food producer PT Indofood Sukses Makmur, meanwhile, is exploring possibilities of opening a factory in Algeria.
Trade Ministry International Trade Negotiations Director General Iman Pambagyo said he was optimistic that Indonesia's partnership with Algeria could help open doors to other markets as well.
"Algeria can serve as Indonesia's strategic economic partner, [helping Indonesia] penetrate the African and Southern European markets, while Indonesia could also help Algeria penetrate the Southeast Asian markets as well as countries that are part of the Regional Comprehensive Economic Partnership (RCEP) free-trade agreement," Iman said.
---