Israel, China move closer to free trade agreement with survey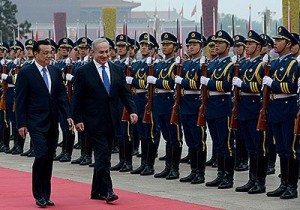 Globes | Tuesday, July 9th 2013
Israel, China move closer to free trade agreement with survey
Author: Joshua Levitt
Israel and China have moved closer to a bilateral free trade partnership, agreeing to hold a survey to quantify its impact as a first step, Israel's Globes reported on Tuesday, citing sources in Israeli Economy Minister Naftali Bennett's delegation, currently on a trade mission in China.
Globes said that Israel had expressed interest in conducting such a survey over the past two years, but, unexpectedly today, Chinese leadership responded positively. The survey could take up to two years complete.
Bennett told Globes that trade between Israel and China totals about $8 billion annually.
In 2012, Israel's exports to China rose 0.9% to $2.74 billion. Exports include advanced technology, electronics and communications products, machinery and equipment, and chemicals. Half of the total is attributed to the operations of Intel and Israel Chemicals.
Globes cited a senior figure in Bennett's entourage as saying, "The Chinese pay major attention to Israel. The Chinese government has taken a strategic decision to strengthen economic relations with Israel and good things are happening between the two countries in this sphere. The Chinese agreement to launch a survey on the value (of the free trade agreement) surprised us. We had believed that such agreement would come at a later stage."
---