Japan and EU to ink free trade pact July 11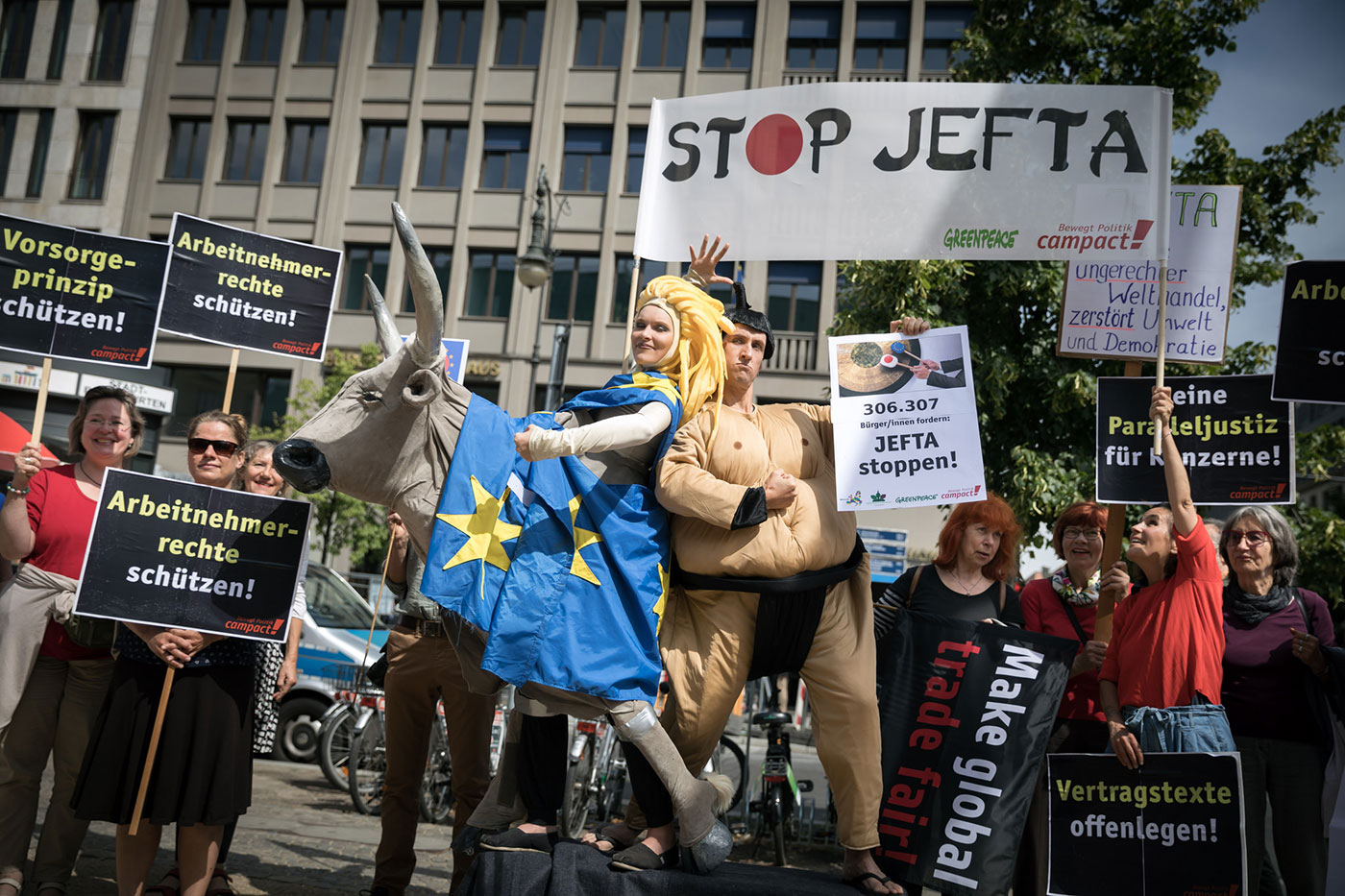 Nikkei Asian Review | 21 June 2018
Japan and EU to ink free trade pact July 11
TOKYO — Japan and the European Union are expected to place the final signatures on their free trade pact on July 11 in Brussels, signaling their rejection of a protectionist push by U.S. President Donald Trump.
Prime Minister Shinzo Abe will attend the signing at the EU headquarters when he travels to France for a meeting with President Emanuel Macron that month.
Japan and the EU concluded negotiations for an economic partnership agreement last December. After the signing ceremony, both sides' parliaments must ratify the document. The aim is to have the pact take effect early 2019, before Britain leaves the EU late March 2019.
Once ratified, the EPA will encompass a population of about 600 million people in 29 countries that account for roughly 30% of the world's gross domestic product.
Growing U.S. protectionism has been the driving force behind the push by both sides to quickly sign the EPA.
Trump recently placed tariffs on steel and aluminum imports from both Japan and the EU, prompting Brussels' response to slap retaliatory tariffs on U.S. products like motorcycles starting next month.
Japan hopes its pact with the EU as well as the reworked 11-member Trans Pacific Partnership will help counter the U.S. It also believes signing the EPA before high-level trade talks with Washington in mid-July would help bolster its position as Tokyo expects tough negotiations ahead.
The July talks with the U.S. will center around the themes of "free, fair and reciprocal" trade. Washington is expected to ask Tokyo to negotiate a bilateral free-trade agreement and fix trade imbalances. Japan, for its part, will emphasize the advantages of multilateral agreements like the TPP 11 and the EPA.
Although Trump and Abe seem to have established a personal rapport, the trade talks are unlikely to go smoothly. During their summit earlier this month in Washington, Trump told Abe that Japan-U.S. trade was not free, fair or reciprocal, according to a Japanese government official.
Trump is eager to make a deal by any means before the midterm election, as evidenced by his threat to slap new tariffs on $200 billion of Chinese goods.
---