Japan and Turkey seek early conclusion of free trade accord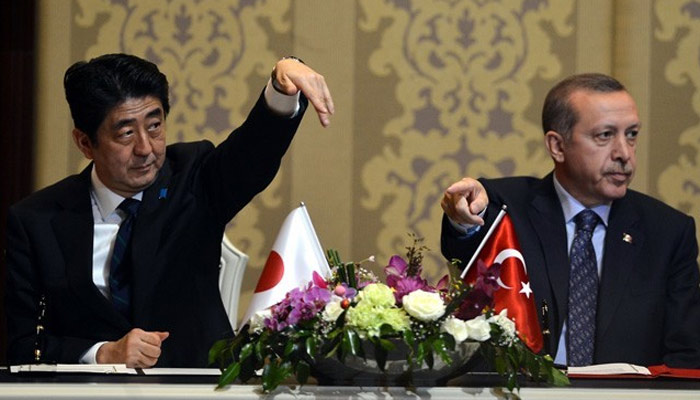 Japan Times | 25 September 2018
Japan and Turkey seek early conclusion of free trade accord
(Kyodo, NEW YORK) – Prime Minister Shinzo Abe and Turkish President Recep Tayyip Erdogan agreed Monday to try to conclude negotiations for a free trade agreement "at an early date."
During their talks on the sidelines of the U.N. General Assembly, Abe said he wants to enhance bilateral ties that have been steadily deepening under Erdogan in various areas, the Japanese Foreign Ministry said.
Japan and Turkey started negotiations to reach a bilateral free trade agreement in 2014. Turkey serves as a manufacturing base for Japanese companies making products for the European Union.
Erdogan congratulated Abe on his victory in the ruling Liberal Democratic Party presidential election last Thursday, an outcome that boosted his chances of becoming Japan's longest-serving prime minister.
The two leaders discussed regional issues, and Abe hailed Turkey's "strenuous diplomatic efforts" in reaching a deal with Russia to set a demilitarized zone in Syria's Idlib region that averted an attack on the Syrian rebel stronghold.
U.S.-Turkey relations have worsened in recent months over the detention of a U.S. pastor, with Washington imposing sanctions against Ankara over the case. The Turkish lira has faced sell-offs.
In a separate meeting, Foreign Minister Taro Kono expressed hope for stability in U.S.-Turkey relations for the benefit of the Turkish economy and said Japan is ready to do what it can.
---