Japan goes gaga over banana diet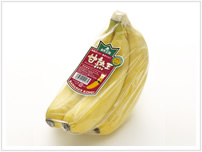 Antara News | September 7, 2009
Japan goes gaga over banana diet, RP gets the profit
By Tony Ryanto
Jakarta (ANTARA News) — The morning banana diet, which turned Japanese women bananas in 2008, has boosted the banana export of the Philippines to Japan not only throughout that year but up to 2009 because the fad diet that is expected to fade away within a short time proves to be long lasting.
It turns out that MBD has now come to South Korea, according to English chosum. com on Aug 30, 2009. Captioned "Can banana peel the weight away", the reports said that an increasing number of Koreans have fallen for the fad.
In the spring of last year, the diet, invented by Hitoshi Watanabe and wife Sumiko, was responsible for depleting supplies of bananas in supermarkets.
The Philippines wasted no time making use of the momentum. President Gloria Macapagal-Arroyo abrogated a government policy limiting the total acreage of banana plantations to 26,250 ha. In other words the country can now produce bigger quantities of the tropical fruit.
On top of it, small growers are allowed to sell bananas direct to Japan under the Japan-Philippines Economic Partnership Agreement (JPEPA) and this was supported by Cotabato Representative Emmylou Talino-Mendoza mid last year.
Steven Antig, president of Filipino Banana Growers and Exporters Association, said Davao City banana export in Q1 2009 to Japan, the Middle East, Korea, China, Russia, Brunei, Hong Kong, New Zealand and Singapore amounted to 473,301 metric tons, slightly up against 418,654 metric tons in the same period last year.
He said tremendous demands for the fruit, mostly Cavendish and Senorita varieties, come from Japan and the Middle East.
Apart from the MBD, the current global financial crisis contribute greatly to increased sales of bananas, the wholesale price of which stands at Y 149 per kg, against Y 195 of tangerines per kg and Y 212 of apples per kg.
At the moment, more than 90 percent of Japan's banana import comes from the Philippines, where Sumitomo Corp. has been operating with local partners for 40 years, according to Katsuhiko Nishikubo, Sumitomo's fruit import team leader, as quoted by bloomberg, com dated July 15, 2009.
He said the company now is planting new trees in the hope that it will get the top share in two or three years to come.
Sumitomo's profit quadrupled to Y 1.7 billion in the fiscal year ending March 31, 2009, while total profit stands at Y 215.1 billion. He admitted that banana profit is tiny but marketing routes for bananas lead to derivative businesses for supermarkets, said Hiroshi Sakurai, senior analyst of Mizuho Investors Securities Co., Tokyo.
Dole Japan Ltd., unit of Dole Food Co., Japan`s largest banana importer, expects revenues in 2009 to go up by 5 percent from Y 770.8 billion in 2008.
"Bananas are affordable. Imports will grow. Booms normally last 2-3 months but this time they are protracted and unexpected," said Hiromi Ohtaki, ex marketing specialist at Dole Japan Ltd.
The world`s top banana producers are not same as the world's top banana exporters. But in the case of RP, it is the second biggest producer after Equador and the second biggest exporter, also after Equador.
Indonesia, for example, is the world`s fifth biggest banana producer but it is not listed in the world's 10 biggest exporters.
---