Joint ACP-EU meeting ends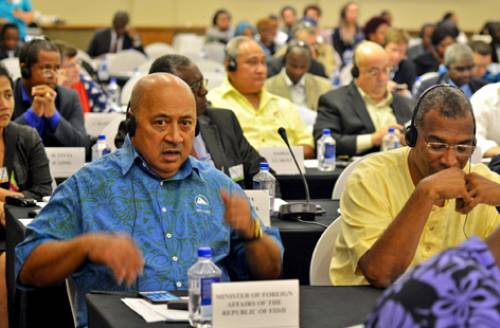 Fiji Times | June 17, 2015
Joint ACP-EU meeting ends
VUNIWAQA BOLA-BARI
The three-day African, Caribbean, Pacific - European Union Joint Parliamentary Assembly ended today with the ACP Parliamentary Assembly reaching the Suva Resolution.
The ACP Parliamentary Assembly called on the European Commission negotiators to show flexibility in the comprehensive Economic Partnership Agreement negotiations and facilitate the conclusion of the development friendly EPAs with the remaining ACP regions and countries particularly the Pacific region, taking into account their unique and special circumstances.
ACP delegates also urged the European Commission to recognise the unique developmental and economic challenges faced by the ACP region as a whole.
They also requested the EC to recognise the need to accord special and differential treatment in the EPA process to ACP Least Developed Countries, small vulnerable economies and the Smaller Island States of the Pacific region.
Also, they called on the EC Trade Commissioner to convene meetings with regions that are yet to conclude full EPAs and for the Pacific for a joint Pacific European Commission Ministerial meeting to address the remaining contentious issues and to work constructively in the true spirit of goodwill and partnership to conclude a development friendly comprehensive EPA by December 31, 2015.
---