Leaked draft CETA declaration comes under fire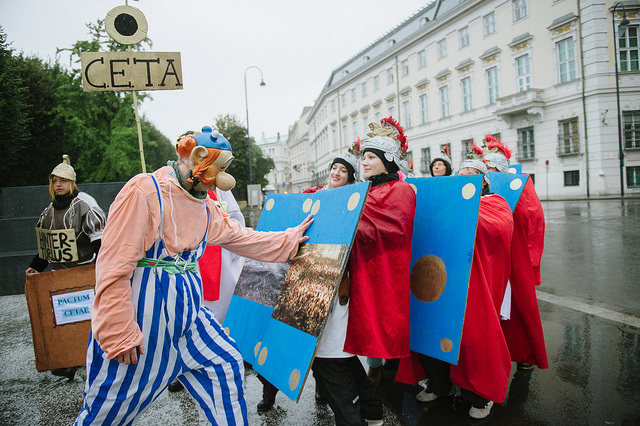 Vieuws | 6 October 2015
Leaked draft CETA declaration comes under fire
By Joanna Sopinska
The leaked CETA declaration that EU Trade Commissioner Cecilia Malmström and her Canadian counterpart Chrystia Freeland hoped would salvage the deal from sinking came under fire from environmental NGOs and some trade experts.
A copy of the document dated 6 October was made public by the Kronen Zeitung, Austria's largest newspaper.
Shortly afterwards, Greenpeace Europe posted its analysis on the Internet, slamming the text for falling below expectations, especially with regard to its legal value.
While announcing plans to attach a joint declaration to CETA, Malmström and Freeland pledged it would have binding legal status. This was meant to alleviate the concerns of some member states, notably Austria, about CETA's potential negative impact on EU social and environmental standards, governments' right to regulate in the public interest and on the management of public services across the EU.
But Greenpeace said these goals have not been met.
"As it stands, this declaration has the legal weight of a holiday brochure. There is nothing in it that would guard against the threat of CETA to nature, our health and labour standards," Greenpeace said, arguing that improving CETA would require "real renegotiations and changes in the treaty text itself."
Some trade experts seem to agree that the value of the declaration is mainly political rather than legal as suggested by Malmström and Freeland.
"The interpretive declaration appears to be a purely political document, as it would not seem to have any legal impact on CETA obligations," Simon Lester, Trade Policy Analyst at the Cato Institute told this website.
"Whether it achieves its political aims remains to be seen," he added.
The declaration was meant to appease certain member states and political parties that are afraid CETA would lead to 'race to the bottom' in labour, environmental and public health standards and allow big business to challenge governments across Europe.
"The leaked CETA declaration strikes me as being mainly about mollifying political opponents of CETA, particularly the key constituency of German social democrats who wanted more assurances on investment protection, public services and labour rights," Gabriel Siles-Brügge, Associate Professor at the University of Warwick, said in a short comment emailed to EU Trade Insights.
"It doesn't actually contain any enforceable provisions," he added.
But David Kleimann, a researcher in EU and international trade policy at the European University Institute stresses the political value of the document.
"The declaration is, first and foremost, a political statement on behalf of the CETA parties, which clarifies the drafters' intentions on issues that are contentious in the public debate. Legally, strictly speaking, it is non-binding," Kleimann said in a comment emailed to this website.
"Yet, the declaration does have legal value. International and national courts as well as legislators frequently refer to legal context, such as to clarify the object and purpose of laws and treaties. This is where the value of this declaration lies. It is simply inaccurate to assume that the declaration is void of legal value," he added, arguing that it "will certainly be cited in the EP consent decision on CETA and may be included in Council decisions on the signing and provisional application of CETA."
Work in progress
But Bernd Lange (S&D, Germany), Chairman of the European Parliament's International Trade Committee (INTA) was quick to point out that the leaked document is just a draft. In a tweet posted early evening the same day, Lange said that work was ongoing to deliver a legally binding declaration. "Further efforts are necessary to achieve good results," he added, noting that the position of the German Social Democrats (SPD) on the declaration "is clear."
According to sources, Lange made clear to the Commission that the leaked draft does not meet expectations of the SPD and demanded more specific commitments.
Another source told this website that amendments are likely to concern two aspects: labour protection and investment protection.
"It is anything but the final text," the source said, hinting that drafting will also continue at the informal Trade Policy Committee meeting on 7 October in Bratislava (see article).
"We need also to see the input from the Canadians," the source added.
The final text of the declaration is expected to be approved by the Trade Council on 18 October and attached to CETA subject to signature at the EU-Canada summit on 27 October in Brussels.
---