Lord Mandelson accused of secretly lobbying for Libya during Lockerbie bomber talks
The Telegraph | 29 Aug 2009
Lord Mandelson accused of secretly lobbying for Libya during Lockerbie bomber talks
By Bruno Waterfield in Brussels, Andrew Alderson in London and Alastair Jamieson in Podgorica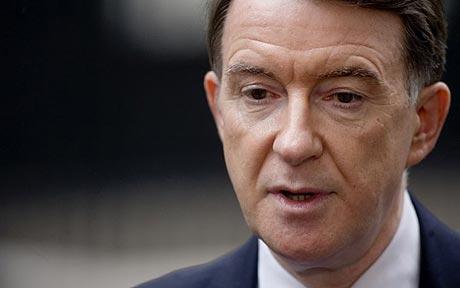 Lord Mandelson has been accused of secretly lobbying for the interests of Libya at the time of its alleged prisoner-for-oil deal with Britain.
Informed sources say that, nearly a year after Lord Mandelson stepped down as European Trade Commissioner to return to the Cabinet, he has continued to push personally for a new and quick European Union (EU) trade deal with Libya.
The persistence of his lobbying on Baroness Ashton, his successor as Trade Commissioner, is said to have alarmed officials at the EU headquarters.
"Mandelson has been putting Ashton under pressure to give something quicker to Libya," said one European official close to the trade talks. The Business Secretary has however strongly denied the allegation.
Lord Mandelson's growing links to Libya can be revealed just days after Saif Gaddafi, the Libyan leader's son, insisted that freedom for the Lockerbie bomber was directly linked to lucrative deals in the north African country for British firms.
The Sunday Telegraph revealed last week that Mr Gaddafi admitted Megrahi's release was always "on the table" during trade talks.
Last night there was more evidence to support this theory as it emerged that the British government had decided in 2007 that it was "in the overwhelming interests of the United Kingdom" to pave the way for his return to Libya.
Letters were sent two years ago by Jack Straw, the justice secretary, to Kenny MacAskill, his counterpart in Scotland, which show the government was abandoning its attempt to prevent Megrahi from serving out his sentence in his home country.
The decision was taken after discussions between Libya and BP over a multi-million pound oil exploration deal hit difficulties.
Mr Straw last night said: "The negotiations over a prisoner transfer agreement (PTA) were part of a wider agreement for the normalisation of relations with Libya as part of bringing them into the international community.
"It was always made clear to the Libyans that, as with all other such agreements, the sentencing jurisdiction – in this case Scotland – had a right to veto any individual application including that of any application from Mr Megrahi."
Last year Lord Mandelson – who has twice been forced to resign from the Government – pledged to avoid potential conflicts of interest after he was found to have misled the public about the length of his friendship with Oleg Deripaska, a controversial Russian oligarch.
The Business Secretary, who is effectively Gordon Brown's right-hand man, faced fresh calls yesterday to "come clean" over his links to Mr Gaddafi and Libya.
The country was a pariah nation until six years ago when, in return for a lifting of economic sanctions, it accepted responsibility for the bombing of Pan Am Flight 103, above Lockerbie, in December 1988.
Opposition politicians also want to know whether Lord Mandelson and the Labour Government encouraged Kenny MacAskill, the Scottish Justice Minister, to free the only man convicted of the bombing, which claimed 270 lives.
Abdelbaset Ali Mohmed al Megrahi, 57, was released on compassionate grounds 10 days ago because doctors say he is suffering from terminal cancer.
The Business Secretary has denied that a deal was done to free Megrahi, even though Mr Gaddafi last week repeated his earlier claim that bomber's freedom was related to talks over trade agreements. Deals include a £545 million deal for BP.
Lord Mandelson has, however, admitted that he discussed the Megrahi case with Mr Gaddafi earlier this month – and just a week before it was first speculated that the Libyan was to be freed from his life sentence.
An investigation by The Sunday Telegraph has also revealed further links between the Business Secretary and Libya:
* On February 27 2008, Lord Mandelson, as Trade Commissioner, proposed that the EU should start negotiations for a "Framework Agreement", to develop trade and other links, with Libya. He said: "An ambitious Free Trade Agreement would intensify co-operation between the EU and Libya on trade and economic issues and would further strengthen and deepen our relationship." Such an agreement usually takes up to 10 years to arrange.
* In June of this year, British officials lobbied other EU member states to give interim trade breaks to Libya by scrapping tariffs on certain textiles and engineering products.
* In Montenegro, where Mr Deripaska and Nat Rothschild, two of Lord Mandelson's most wealthy and controversial associates, have invested, their £500-million new marina project is on the site of a shipyard that had Libyan links.
After the Porto Montenegro marina project, in which Mr Deripaska, Mr Rothschild and others have invested millions, was launched in 2007, some 100 workers from the former government shipyard on which it is being built were transferred to Libya. The workers had previously been overhauling Libyan warships.
The heat is on Lord Mandelson, the Prime Minister and David Miliband, the Foreign Secretary, this weekend after William Hague, the Shadow Foreign Secretary, demanded answers over their conduct.
"If there was no UK government involvement in the decision to release Megrahi then Gordon Brown and Lord Mandelson should have no objection to releasing details of the government's dealings with Libya," he said.
In a further embarrassment, Lord Jones of Birmingham – the former trade minister – criticised the fact that the decision to free Megrahi was taken in Edinburgh, rather than London.
"I don't think many people in England or indeed in Scotland would have believed that the devolution settlement would mean that a decision of such profound implications for the UK... would be taken like this."
A spokesman for Lord Mandelson confirmed his involvement in the Framework Agreement between the EU and Libya last year but said claims that the Business Secretary had pressured Baroness Ashton were "absolute and total nonsense".
He added: "Since stepping down as Trade Commissioner, he has had no focus whatsoever on Libya."
The 24-hectare marina site in Montenegro was sold to Peter Munk, the Canadian mining tycoon, for a reported price of only £3.2 million in a deal personally overseen by Milo Dukanovic, Montenegro's controversial prime minister.
Mr Gaddafi, who was a guest of Mr Rothschild at his villa in Corfu earlier this summer at the same time as Lord Mandelson, was actively promoting Libyan business interests in Montenegro, which is aggressively courting high-profile foreign investors.
During his time as EU Trade Commissioner in Brussels, Lord Mandelson championed the cause of Montenegro, supporting its entry into the World Trade Organisation and ending EU trade tariffs on the country's largest export, aluminium.
That move benefited Lord Mandelson's friend Mr Deripaska, who bought Montenegro's former state aluminium plant.
Oliver Corlette, the managing director of Porto Montenegro, said that the Libya shipyard deal was concluded by former owners of the site and was nothing to do with Lord Mandelson's associates.
He added that the "true cost" of the development was higher than the sale price because Mr Munk had agreed to spend millions of pounds cleaning up the former military yard and providing education and training in the local community as part of the sale agreement.
A spokesman for Mr Rothschild said the financier was not the principal investor in Porto Montenegro and stressed that Mr Gaddafi had no links whatsoever to the marina development nor did Mr Rothschild ever discuss any business projects with him in Montenegro.
---