M'sia said to have backed down on TPP stance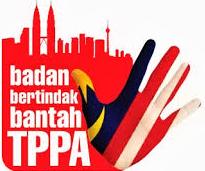 The Malaysian Reserve | Monday, 16 December 2013
M'sia said to have backed down on TPP stance
Kamalavacini Ramanathan
The Bantah TPP (Trans Pacific Partnership) agreement organisation expressed disappointment vis-à-vis the Malaysian negotiators, saying they are cowing to the Americans in the last rounds of the highly secretive trade talks.
Bantah TPP agreement chairman Mohd Nizam Mahshar said the negotiators has agreed to negotiate on chapters rejected earlier by the Malaysian government.
There were claims over Malaysia's softening stance during the meeting held in Singapore last week.
Mohd Nizam said based on leaked negotiation documents and reports from Wikileaks, Hufftington Post and Inside US Trade, it is apparent that Malaysia has weakened its stance on tobacco and state owned companies (SOEs) as well as on issues dealing with intellectual property (IP).
"As far as we are concerned the Health Ministry stood behind a complete carving out of tobacco, but it appears that our negotiators have tabled a revised proposal for tobacco related issues," Mohd Nizam said during a press conference held in Petaling Jaya last Friday.
The tabled revision takes out tariff from the complete carveout being demanded which means tobacco is not out of the negotiations for the Malaysian team, Mohd Nizam said.
Mohd Nizam said he was sceptical about the reasons for the sudden change in the government's stance on tobacco, and wondered if there were any consultations done with the Health Ministry before they embarked on a revised proposal.
He also said previously the government gave assurance that matters involving national interest and sovereignty and Bumiputera rights will not be entertained in the negotiations.
However, based on the foreign media reports, he said Malaysia has started to negotiate on SOEs which involves local government-linked companies (GLCs) interest as well.
"GLCs are the main drivers for our economic growth as well as social objectives. It is a sensitive issue to negotiate in TPP agreement whereby I did not see any solid reason on why there is a need for our GLCs to open up to free market and private interest," he added.
The TPPA is a trade grouping between Australia, New Zealand, the US, Peru, Chile, Mexico, Canada, Singapore, Brunei, Malaysia, Vietnam and Japan.
However, it appears, according to anti-TPP agreement activists, that the TPPA framework goes beyond trade and involves investment, IP and government procurement among others.
The British newspaper The Guardian said the TPP agreement countries have a combined gross domestic product (GDP) of US$28,14 billion (RM90.88 trillion) in 2012, which represents 40% of the world's GDP.
The attempt to create the partnership agreement builds on the Trans Pacific Strategic Economic Partnership Agreement, established in 2006 between Brunei, Chile, New Zealand and Singapore.
So far, the majority of criticism has centred on arguments related to IP and cost of medicines, besides investment, ecommerce and labour law.
Last week, an Opposition lawmaker MP Klang Charles Santiago had also raised concerns over the deviating TPP agreement negotiations whereby apart from the secrecy, the trickiness involved would be troublesome to Malaysia and its people.
"We are now losing to the US. They are pushing Malaysia and other member countries to agree to their demand. Why should we?" he added.
---