Malaysia detains 14 trans-Pacific free trade deal protesters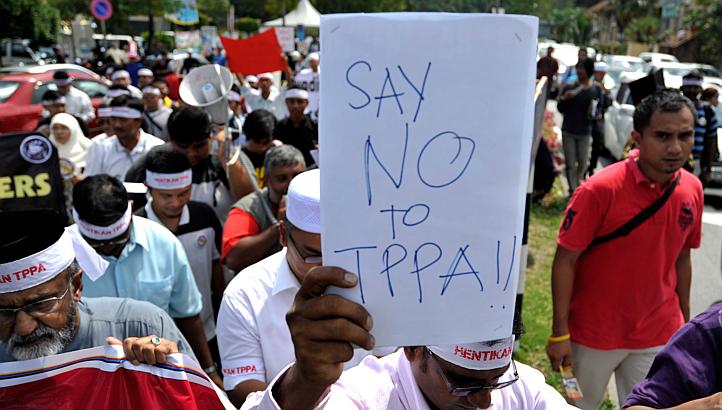 Straits Times, Singapore
Malaysia detains 14 trans-Pacific free trade deal protesters
20 July 2013
KUALA LUMPUR (AFP) - Malaysian police on Saturday detained 14 people protesting against ongoing negotiations for a huge trans-Pacific free trade deal.
Delegations from Asia-Pacific countries, Latin America and the United States have been meeting in the capital of eastern Sabah state since Monday to forge ahead with the pact, which would encompass 40 per cent of the world's economy.
US Vice-President Joe Biden said on Thursday in Washington that he aimed for completion of the Trans-Pacific Partnership (TPP) this year.
Malaysian activists have staged several protests against the deal, fearing it will compromise the country's sovereignty and calling on the government to disclose details on the agreement.
Eleven protesters were arrested outside the resort where trade officials are meeting on Saturday, said Mr Syukri Razab, a coordinator with human rights group Suaram.
Three others were arrested later outside a police station where the protesters were detained, he said.
Police could not immediately be reached for further details.
Independent news portal The Malaysian Insider quoted police as saying the protesters defied orders to disperse and were being tested for drug use.
Mr Biden, who arrives in Asia on Monday for a one-week official visit to India and Singapore, has said the TPP will be the perfect vehicle for updating global trade standards.
US President Barack Obama has billed the pact as a "21st-century" type of trade deal that would ensure labour and environmental standards while creating US jobs by opening up markets within the dynamic Asia-Pacific region.
Delegations from Australia, Brunei, Canada, Chile, Japan, Malaysia, Mexico, New Zealand, Peru, Singapore, the US and Vietnam hope to conclude the pact before the Asia-Pacific Economic Cooperation summit in Bali in October.
Malaysia relies heavily on trade, but US-Malaysia free trade talks have been bogged down in sensitive areas including the Southeast Asian nation's system of affirmative action for Muslim Malays who dominate the multi-racial population.
---