Malaysia on track to ratify TPPA by deadline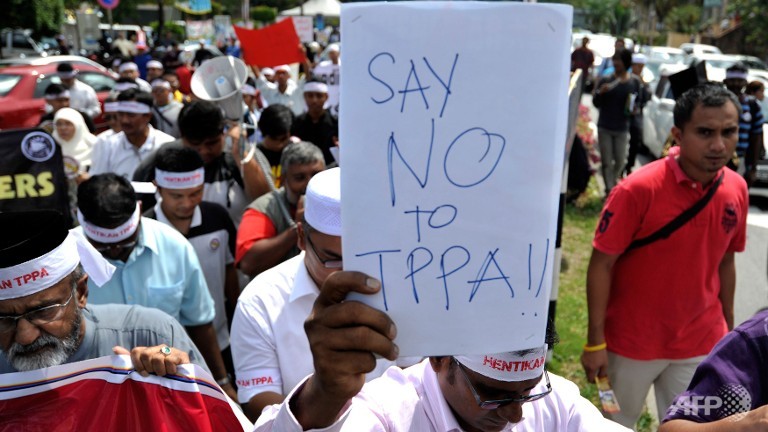 The Sun Daily | 26 September 2016
Malaysia on track to ratify TPPA by deadline
by Eva Yeong
KUALA LUMPUR: Malaysia will find ways to engage with countries that it does not have free trade agreements with in the off chance that the Trans Pacific Partnership Agreement (TPPA) falls through, International Trade and Industry Ministry secretary-general Datuk J. Jayasiri said.
Malaysia, however, is on track to complete the TPPA ratification process by the February 2018 deadline.
"We are in the process of amending those laws. We have 18 legislations identified and they are in different stages of preparation, and will be sent to Parliament for amendments. Once we have all these amended then we will decide on the ratification of the agreement," he told reporters at The King's Discourse on the TPPA on Saturday.
The TPPA was signed on Feb 4, 2016 and the 12 countries involved have two years to ratify the agreement. The TPPA comes into effect 60 days after the ratification process is completed.
The 12 countries are Malaysia, the US, Japan, Australia, Peru, Vietnam, New Zealand, Chile, Singapore, Canada, Mexico and Brunei.
Asked whether the US presidential elections would affect the TPPA, Jayasiri said the US administration is making preparations for the implementation of the agreement.
"The US administration is making preparations to get its Implementation Bill agreed by or at least considered by Congress and to get their approvals from Congress so that they will then be in a position to ratify it. I can't say for certain when it is going to be done but there have been a lot of news reports that they intend to do it within this presidency," he said.
Jayasiri said if the agreement doesn't take off, Malaysia will find ways to engage with countries within the TPP that do not have free trade agreements (FTAs) with Malaysia.
He said the four countries – the US, Canada, Mexico and Peru – are important markets, trading partners and sources of investment.
If any of the 12 countries are unable to ratify the agreement within the two-year period, the TPPA will still be implemented if there are at least six countries accounting for 85% of the total gross domestic product of the 12 countries that have completed the ratification.
"Once that condition is met, the agreement will be implemented. Those who have not met the conditions will try to ratify the agreement so that they will also be part of it. Those who have not ratified when the agreement comes into force, they will not be a party to the agreement yet," said Jayasiri.
He said the government has been having outreach programmes for businesses and various stakeholders.
"This year alone we have had almost 150 outreach programmes. We go to the associations, the chambers, FMM (Federation of Malaysian Manufacturers) – not just in the Klang Valley but all states including Sabah and Sarawak – the universities and some big companies that will have big implications from the TPPA. We want businesses to understand what's in store and how to prepare for it," he added.
---