Mercosur, EU likely to ink FTA in May: Brazil FM
Press TV | Mon, 15 Feb 2010
Mercosur, EU likely to ink FTA in May: Brazil FM
Latin America's regional trade agreement, Mercosur, and the European Union could reach a free trade deal as soon as May, says the Brazilian foreign minister.
Celso Amorim speaking at a news conference on the heels of EU-Brazil talks in Madrid on Monday said that the two blocs could strike an FTA at the next EU-Latin America and Caribbean summit due to take place in May in the Spanish capital.
"I think a deal could be reached. I don't know if it will be a final agreement but I think we can sign an agreement that is not simply a political declaration during the Madrid meeting," AFP quoted Amorim as saying.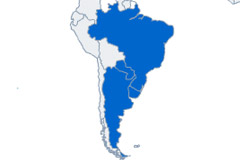 The EU and Mercosur initiated free trade talks in 1999 but the talks stalled in 2004.
"There is a very concrete possibility of moving towards an EU-Mercosur agreement [at the May summit]", Amorim said, without elaborating on the issue.
Spain, which currently holds the presidency of the European Union, is going to host the joint summit of EU and Latin America on May 15-19.
As South America's most influential and biggest trade bloc, Mercosur is a regional trade agreement among Argentina, Brazil, Paraguay and Uruguay.
Bolivia, Chile, Colombia, Ecuador and Peru currently have associate member status and Venezuela has yet to achieve full membership.
---