NAFTA parties pursue "accelerated" timeframe, gear up for third round of talks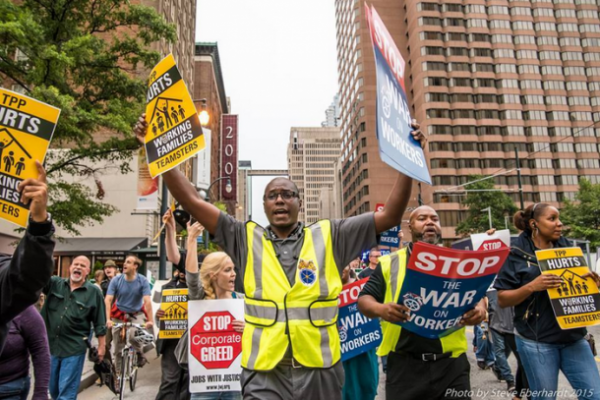 ICTSD | 14 September 2017
NAFTA parties pursue "accelerated" timeframe, gear up for third round of talks
Officials are gearing up for another negotiating round in the efforts to modernise the North American Free Trade Agreement (NAFTA), with the next set of talks due for 23-27 September. The gathering will mark their third round in just over one month as part of an "accelerated" timeframe planned by ministers.
The first round of talks was held on 16-20 August in Washington, followed shortly thereafter by a second round from 1-5 September in Mexico City. The third round will be held in the Canadian capital city of Ottawa, with the site of subsequent talks to rotate between the three NAFTA parties.
While future dates have not been formally announced, ministers said last week that they are committed to "an accelerated and comprehensive negotiation, with the shared goal of concluding the process towards the end of this year."
The trilateral trade accord in question has been in place for over two decades, with the countries involved responsible for approximately one-quarter of the world's gross domestic product.
Early stages

According to a trilateral statement issued by Canada, Mexico, and the US following the second round, the three NAFTA parties have made "important progress… in many disciplines," without elaborating on which ones.
They did note, however, that in some areas they have been able to put together consolidated texts from the proposals tabled so far, which can help facilitate the discussions going forward. US Trade Representative Robert Lighthizer said in his closing statement on 5 September that efforts are advancing at "record pace," with proposals being put forward in over 24 chapters.
The NAFTA parties "wholeheartedly share the goal of reaching a mutually beneficial agreement," said Canadian Foreign Minister Chrystia Freeland after the second round.
"This second round in Mexico City has continued the constructive preparatory work that took place in Washington a couple of weeks ago," she added.
Mexican Economy Secretary Ildefonso Guajardo Villareal, who hosted the latest round of talks, said for his part the Mexico is "definitely committed to a process in which we can accommodate each country's interests and at the end of the day we can end up with an agreement that will be definitely a victory for the three nations involved."
He further touted the importance of a final NAFTA deal creating new, well-paying jobs across their countries, along with improving "basic principles."
The Mexican official, in comments to Imagen Radio previewing the third round, suggested that the upcoming talks will likely focus on "less complex" chapters, while noting that in some tougher areas proposals have not yet been made.
What a revamped NAFTA might look like still remains unclear. The three sides have detailed their respective negotiating objectives in recent months, and within those statements some key differences have already begun to emerge, including on whether and how to keep dispute settlement provisions involving trade remedies and how to address rules of origin requirements. (See Bridges Weekly, 20 July 2017)
Another question is how much of the Trans-Pacific Partnership's (TPP) terms will carry over into the NAFTA process, or at least inform it. All three NAFTA parties were involved in the TPP negotiating process, though the US pulled out of the signed, completed deal earlier this year.
How the three parties deal with investment-related disputes is also expected to be a hot topic, given developments seen in this area within other negotiating contexts. Freeland said last month that Canada would aim to see changes to the investor-state dispute settlement (ISDS) mechanism included in the current NAFTA. An updated version of ISDS would "ensure that governments have an unassailable right to regulate in the public interest," she said.
While Freeland did not elaborate on what changes Canada is seeking on ISDS, the North American nation is one of the proponents of a future multilateral investment court, along with the European Union. Canada and the EU have already agreed to an "investment court system" that they say would facilitate such an effort under their Comprehensive Economic and Trade Agreement (CETA).
The foreign minister confirmed earlier in the speech that CETA would serve as a model for Canada's approach to the NAFTA modernisation talks.
US officials have also suggested that NAFTA could help set a new bar in other trade areas, such as provisions on currency. Meanwhile, Freeland said last month that Canada would be pushing to include chapters in a modernised NAFTA on gender rights and indigenous peoples.
Political climate, forthcoming elections

The political climate for the NAFTA modernisation effort is already expected to be a difficult one. The accord was raised repeatedly by then-candidate Donald Trump during the US electoral campaign last year as a deal in need of repair or termination.
As president, Trump has again raised the issue of NAFTA on Twitter, repeating on 27 August past claims that the accord is the "worst trade deal ever made."
"Both being very difficult, may have to terminate?" Trump said at the time, referring specifically to Mexico and Canada. While the US leader has earlier hinted at termination, this statement came following the first round of talks, and within days of the second round starting.
In recent weeks, US officials have clarified that termination remains a possibility, though that it will depend on how the talks proceed.
"The president has made clear if they don't work, he's going to pull out. So that shouldn't be a shock to anyone. And really, that's the right thing. We need fixes to this deal. It has not worked the way that it was intended to," said US Commerce Secretary Wilbur Ross at an event last week hosted by the Washington Post.
The US commerce chief suggested, furthermore, that other NAFTA parties would also benefit from fixes to the deal, citing Mexico in particular. He added that negotiators are planning to address the "easier" issues in the early stages to build a good pace before tackling thornier areas, without giving much specifics as to what these might be.
He also suggested that upcoming political dates in each country's respective calendars – including federal elections in Mexico and congressional midterms in the US next year – mean that progress will have to happen quickly, while indicating that it is "too early to tell" what the negotiating dynamics between the North American nations will be.
"As you get closer to all of those political dates, the ability to get anything done will go down. So there's no fine-line magic date, but more or less around the end of the year is probably where we're going to need to know where we are," said Ross.
Aside from the US, Canada and Mexico have suggested that they are focused on the renegotiation, while preparing for other scenarios should they arise. Furthermore, officials from those countries have already noted that they too possess the ability to take a step back if necessary.
"In all these discussions, we will come to the table with goodwill, and Canada's characteristic ability and willingness to seek compromise and find win-win solutions. But we are committed to a good deal, not just any deal. That will be our bottom line," said Freeland last month, noting in the same speech instances where Canada has previously walked away from trade negotiating efforts.
Mexican Foreign Secretary Luis Videgaray Caso also told the Reuters news agency in late August that his country would step away from the talks if the Trump administration begins the process of pulling out of NAFTA.
ICTSD reporting; "Transcript: The Daily 202 Live with James Hohmann and Secretary Wilbur Ross," THE WASHINGTON POST, 8 September 2017; "En tercera ronda del TLCAN se discutirán los temas de menor complejidad: Guajardo," IMAGEN RADIO, 6 September 2017; "Mexico minister sees risk of U.S. NAFTA exit, urges plan B," BNN, 29 August 2017; "If Trump pulls trigger on NAFTA withdrawal, Mexico will walk away," REUTERS, 30 August 2017.

---