New chapter in strategic ties
Business Times, Malaysia
New chapter in strategic ties
Excerpts of New Straits Times interview with Japan's Ambassador to Malaysia, Tadashi Imai
December 10 2005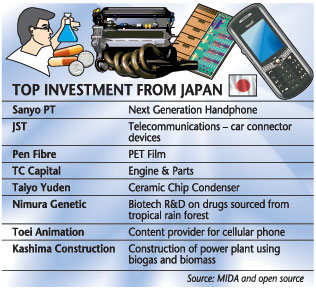 QUESTION: What is the status of the Economic Partnership Agreement with Malaysia and when will it be signed?
ANSWER: The prime ministers of both countries had decided to create an enduring bilateral framework in the form of Malaysia-Japan Economic Partnership Agreement (MJEPA).
At the summit meeting in Tokyo in December 2002, they have agreed to begin discussing the agreement. The formal negotiation started in January 2004 and on May 25 this year, Prime Minister of Malaysia, Datuk Seri Abdullah Ahmad Badawi met with Japanese Prime Minister Junichiro Koizumi in Tokyo and both had confirmed the agreement in principle on major elements.
The MJEPA includes not only trade in goods, but also services, investment and cooperation. We have concluded the negotiations on time and the signing of the MJEPA by the prime ministers of Malaysia and Japan is scheduled at the onset of the East Asia Summit (EAS).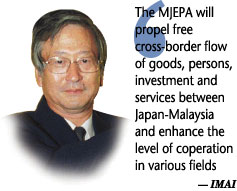 Q: What are some of the highlights and specifics of the MJEPA that Japan sees as importantfor bilateral ties with Malaysia? Why is the EPA more important?
A: The MJEPA is a significant step forward in Malaysia-Japan bilateral economic relationship and opens up a new chapter in our strategic partnership. It will propel free cross-border flow of goods, persons, investment and services between the two countries and enhance the level of cooperation in various fields.
Furthermore, MJEPA is not a simple free trade agreement (FTA). It consists of varieties of fields including Investment, trade in services, intellectual property, and improvement of business environment besides tariff elimination in trade in goods which have normally been dealt with in an FTA.
For trade in goods, both sides will substantially eliminate tariffs on industrial products, agriculture, forestry and fishery products within 10 years after the entry into force of the MJEPA.
Some 97 per cent of bilateral trade, or 94 per cent of Malaysia's export to Japan and 99 per cent of Japan's export to Malaysia, will be duty free. Both sides will eliminate or reduce tariffs comprehensively on industrial products.
The automotive and steel are, inter alia, of vital importance for Japan. The tariffs on motor vehicles and car components and parts coming into Malaysia will be eliminated or reduced further as mentioned below.
One of the Japanese major car manufacturers has decided to market its car with its own brand considering that the MJEPA will expand the car market.
Moreover, both governments will undertake joint initiatives to further promote competitiveness of the car industry in Malaysia. "MYVY" which was developed by Japanese and Malaysians in Perodua is one of the best-seller cars in Malaysia.
With regards to the iron and steel Industry, Malaysia will continue to provide import duty exemption for high-end steel products from Japan and tariffs for substantially all iron and steel products will be eliminated within 10 years.
As for Japan, the tariffs on essentially all the goods coming into the Japanese market from Malaysia will be eliminated immediately upon the entry into force of the MJEPA.
The MJEPA plays an important role after the successful implementation of the Look East Policy. At the age of global competition, Malaysia and Japan should look beyond commodity goods or low wages.
The way forward is by developing revolutionary products and services through innovation. Both countries share similar goals in building a leading position in new fields like nanotechnology, information technology and biotechnology.
There is already a concrete example of partnership between Malaysia and Japan. I was informed that a Japanese company in the electronics and electrical industry here has integrated the Look East Policy with its investment policy. This company recruits local graduates of Japanese universities under the Look East Policy and provides on-the-job training for them, which has resulted in low staff turnover for the company and, at the same time, provides long-term employment to these graduates.
As I have mentioned above, MJEPA is not a simple FTA but truly the Economic "Partnership" Agreement which pursues to enhance and strengthen our bilateral partnership in various areas.
I strongly believe that the MJEPA will promote the well being of the people and contribute to the capacity building of both countries. It will represent a new symbol of the strategic partnership between Malaysia and Japan in this century.
Q: The EPA has been negotiated for some time now. If it is signed what will be the immediatebenefits for Malaysia and Japan?
A: The Look East Policy has been implemented since 1982 and has played a vital role in economic and social development of Malaysia. Through this policy, Malaysia has established a strong industrial base and skilled human resources.
We believe that there is a need to upgrade the cooperation to meet the new challenges of globalisation. The immediate benefit of the MJEPA is that under the Koizumi-Abdullah Training Programme for Economic Partnership and other existing schemes between the two countries, Japan will accept about 1,000 students and trainees over the next 10 years from relevant Malaysian institutions, universities and private companies to contribute to the development of human resources in Malaysia and at the same time promote mutual understanding and friendship between the two countries.
Capacity building and technical assistance for public sector, such as Customs authority are also included in the MJEPA so that trade between the two countries will go even smoother. Besides accepting Malaysians for training in Japan, we will also dispatch experts and advisers to the private and public sectors in Malaysia to enhance its competitiveness.
Even before the entry into force of the MJEPA, we will begin 24 cooperation plans immediatelyafter the signing of the agreement. For instance, capacity building for social welfare services (supporting programme for Malaysian people with disabilities), development of animal feed from agriculture waste, and support to export promotion of handicraft products are included in the plan.
We are also preparing for the 2nd Malaysia-Japan Construction Industry Dialogue, which is scheduled in January 2006.
The dialogue will promote deeper understanding about the construction technologies of Japan and its practical application in Malaysia, collaboration between Malaysian construction companies and Japanese companies to operate abroad and share knowledge and technology to the benefit of all.
Q: Currently, Japanese investment in Malaysia has stagnated and are in the "old" areas of business. What needs to be done to stimulate this investment flow from Japan to Malaysia and which areas are seen as potential gainers?
A: We are already seeing the effect of the MJEPA as Japan was Malaysia's leading source of foreign investment this year with RM3 billion investment in 66 projects as compared to the previous year with RM1 billion investment.
Japan also continues to be among Malaysia's top three trading partners and major export markets, accounting for 9.2 per cent of Malaysia's exports for the second quarter of 2005.
Japan is also the next most important source of imports after the Association of South-East Asian Nations, accounting for 14.7 per cent of Malaysia's total import for the corresponding period.
There are 1,337 Japanese companies currently operating in Malaysia and employing about 220,000 people, and accounting for about 10 per cent of the total workforce in the manufacturing sector in Malaysia.
Investments from Japan were mainly in electronics and electrical products (RM1.6 billion), scientific and measuring equipment (RM663 million), plastic products (RM368 million) and transport equipment (RM224 million).
Major investment from Japan, in the past, targeted the 'old' economies. But throughout the years, these companies have become innovative as the Malaysian Government has recognised the need for its workforce to become skilled labour and offer value-added technical expertise to these companies.
For instance, the Japanese electronic companies now have their base with research and development facilities in Malaysia. They have designed and developed their own new products for the exports market.
Also, as a result of the MJEPA, it is immensely expected that the automotive industry is another attractive area for Japanese companies to increase their investment in Malaysia.
There are new emerging areas where Japanese companies are setting up their operations in Malaysia because of the support offered by the Malaysian Government for new emerging industry such as biotechnology, information and communications technology, and environment.
These industries have also been identified in the MJEPA under the 24 areas of cooperation that I have mentioned earlier.
Recent examples of Japanese investment are in areas as stated (see chart). I believe Japanese companies will focus more on the "new" areas in future.
---