Nigeria: Soludo - EU trade agreement is second slavery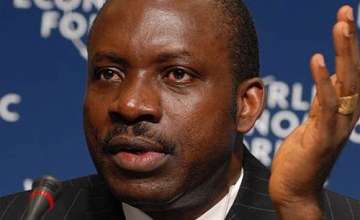 This Day | 19 March 2012
Nigeria: Soludo - EU Trade Agreement is Second Slavery
By Crusoe Osagie
The Economic Partnership Agreement (EPA) being negotiated with African countries, including Nigeria, on sub-regional basis by the European Union (EU) will further underdevelope the continent despite the juicy promises that come with the EPA, former governor of the Central Bank of Nigeria (CBN), Professor Chukwuma Soludo, has warned.
In the last 10 years, the EU has been negotiating the EPAs with the Africa Caribbean and Pacific (ACP) countries as a fully reciprocal trade arrangement to replace the previous non-reciprocal, preferential trade access of ACP countries to EU markets under the various Lome Conventions and the Cotonou agreement.
The EU argues that the EPAs are set out to help ACP countries integrate into the world economy and share in the opportunities offered by globalisation.
Some of the carrots being dangled before ACP countries are that the EPAs are expected to be "tailor-made" to suit specific regional circumstances; open up EU markets fully and immediately; provide scope for wide-ranging trade co-operation on areas such as services and standards; and are designed to be drivers of change that will kick-start reform and help strengthen rule of law in the economic field thereby attracting foreign direct investment (FDI) and helping to create a "virtuous circle" of growth.
But Soludo, in an article published in THISDAY today, has warned ACP governments to look closely at the agreements as they would further impoverish the countries.
So far, only 10 out of 47 sub-Saharan African countries have either signed or initialled the EPAs as trade ministers of the affected regions have largely rejected the agreement.
"Despite all of these, and the reported public protests in 20 countries against the raw deal, it seems all but certain to be rammed through. In private whisperings, not many Africans or policymakers are happy with the deal but there is a certain sense of helplessness," Soludo wrote.
He went on to point out the inbuilt dangers which might not be obvious to many ACP countries, especially as their advisers and negotiators are Europeans.
Soludo wrote: "Put simply, in order to continue to have access to European markets (on the terms that it had enjoyed for more than three decades) Africa is now required to eliminate tariffs on at least 80 per cent of imports from the EU; in some cases, abolish all export duties and taxes, in others, countries can retain existing export taxes but not increase them or introduce new taxes; eliminate all quantitative restrictions; and meet all kinds of other intrusive and destructive conditionalities that literally tie the hands of African governments to deploy the same kinds of instruments that all countries that have industrialised applied to build competitive national economies.
"Under the WTO, least developed countries (LDCs) are not required to further reduce their tariffs (at least they have the choice to decide whether and when to do so) but EPAs require at least 80 per cent of them eliminated. Indeed, Africa is being asked to comply with more stringent conditions than Brazil, India and China are required to meet under the WTO. Almost all the flexibilities in policy choice that Africa and other developing countries won under the WTO are lost under the EPAs. Hitherto, the EU had also (in addition to the Cotonou agreement) granted a special concession to all African LDCs - the 'Everything But Arms' (EBA) - allowing them to export duty-free to the EU. This was the EU's equivalent of the US Africa Growth Opportunity Act (AGOA) and African LDCs were not expected to reciprocate. With EPA, it means that EBA is effectively dead. LDCs would have to provide reciprocal market access opening. In addition, what the EU has failed to get under the WTO or issues that developing countries have rejected under the WTO are being foisted on Africa under the EPA. For example, the so-called trade-related issues (the Singapore issues) such as investment, competition and transparency in government procurement, which are dead under WTO are being smuggled into EPA."
He referred to reports of studies on the possible effects of the EPAs on African economies, pointing out that they would be damaging.
"Africa's nascent industrial sector and agriculture (which is the mainstay of the poor) would be damaged by the new import armada and dumping thereby exacerbating unemployment and poverty. In some countries, imports of sugar, dairy, poultry, rice, vegetable oil, etc have already increased four-fold. Tariff revenues will shrink; premature and permanent opening up of service sectors including financial services leaves them open to the full hazards of the perennial global financial bubbles; and it will badly hurt intra African economic integration. Africa would almost be consigned to be specialists in the export of raw materials.
"African countries cannot use government procurement and contracts to prop up and promote domestic companies as European companies would be required to be given equal treatment in competition for government contracts. The list of the damages is long and cannot be detailed here. Some independent studies by EU admit these damages, and one such study predicts that EPA could accelerate the collapse of manufacturing in West Africa. Perhaps, that is why the EU is promising 'aid for trade' - to sooth and compensate for some of the damages," the professor of economics wrote.
He noted that since the major powers were no longer able to make use of the WTO as they wished to impose new rules on developing countries, "they are now resorting to bilateral and regional policies and agreements to try and get their way".
Soludo also drew attention to the payment of agricultural subsidy in Europe which is damaging Africa's potential to develop its own agriculture and industry.
"As at 2011, the subsidy totalled about £48 billion per year (about US$75 billion) and it is expected to stay at this level until at least 2020. Yet African countries are expected to liberalise NOW. Some analysts have opined that the huge subsidy in Europe is an implicit tariff of hundreds of per cent on agricultural imports. Alternatively, some believe such subsidy amounts to banning imports of agricultural goods and promoting dumping in other countries-especially Africa. Agriculture is the sector where Africa has comparative advantage and with the right policies and incentives, can feed Europe cheaply.
"A regime that keeps the status quo of harmful agricultural subsidy and the pittance of misguided and largely consumption-oriented aid, and hopes to 'develop' Africa is, to put it mildly, suspect. The EU refuses to put the reduction or elimination of their agricultural subsidy on the EPA agenda. A clear signal from the EU here is that whenever its own interests are affected it is unwilling to make any concession. To make EPA a development agenda, agriculture must take centre stage," he wrote.
---