Palm oil exports to Iran to grow by up to 40% next year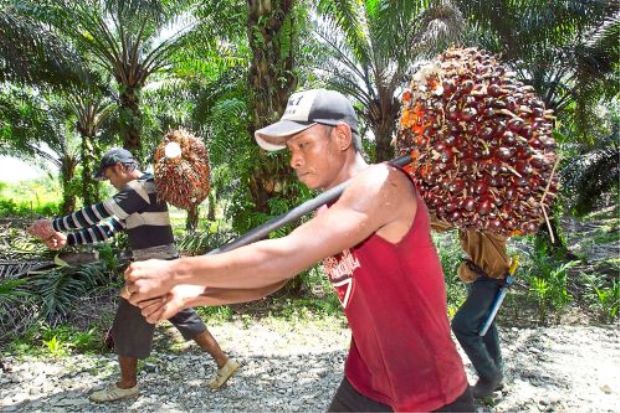 The Star | 7 February 2017

Palm oil exports to Iran to grow by up to 40% next year
BY AZIZUL AHMAD
TEHRAN: The Plantation Industries and Commodities Ministry is positive Malaysia's total export of palm oil and palm oil products to Iran will grow by 30%-40% next year, under a preferential or free trade agreement (FTA), from 453,172 tonnes worth US$331mil (RM1.47bil) achieved in 2016.
Minister Datuk Seri Mah Siew Keong said Malaysia just needed to sort out the current tax regime imposed by the Government of Iran on palm oil import.
"If we can get this 40% reduced, the export volume to Iran can surely increase by 30%-40% by next year. That would be our key performance for 2018," he told Bernama.
Mah has been here from Feb 5 to lead the three-day Malaysian Economic and Technical Mission on Palm Oil, Timber and Rubber Products to Iran.
Malaysia is negotiating a further reduction of duty on palm oil and other commodities on existing tariff lines under an FTA.
Palm oil export to Iran is reportedly faced with the challenge of restriction (import quota) and discriminatory policy on tax.
In 2014, the government of Iran imposed import quota on palm oil, whereby total palm oil import must not exceed 30% of total oils and fats import.
The import dropped by 47% from 997,000 tonnes in 2013 to 330,970 tonnes in 2015 due to the import quota.
In March 2016, the import quota was removed and replaced by higher import tax of 40% whereas other vegetable oils are only taxed at 24%.
"The FTA needs to be expedited as that is the best way to reduce the tariff," said Mah.
He said the International Trade and Industry Minister would meet his Iran counterpart in the near future to iron out the FTA between the two nations.
Total exports to Iran last year were valued at around RM2.0bil, of which nearly half were palm oil and palm oil products.
"This shows that palm oil is an important commodity and it is important to request Iran for a review of the current tax regime," he added.
The minister noted that there had been a significant upward trend for Malaysian palm oil exports to the Middle East.
Iran has demonstrated a wide acceptance for Malaysian palm oil in that close to 82% of the total palm oil and palm oil products imported in 2016 were of Malaysian origin.
In 2016, Malaysian palm oil and palm oil product exports to Iran increased by nearly 10% to 453,172 tonnes valued at US$331mil.
The historical peak was in 2013 when import by Iran totalled 700,729 tonnes.
---