Pan-Asian trade deal goes ahead, but with a chunk missing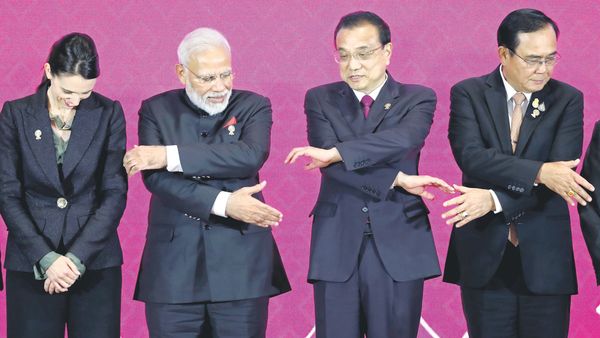 Stuff - 05 November 2019
Pan-Asian trade deal goes ahead, but with a chunk missing
A free trade deal that would have created a trading bloc covering half of the world's population and more than a third of the world's economic activity will stay on hold until 2020 after India refused to sign up.
The Regional Comprehensive Economic Partnership (RCEP) - which includes the ASEAN nations plus its six free trade agreement partners China, Japan, India, South Korea, Australia and New Zealand - has been under negotiation since 2012.
If completed, the deal will cover 3.4 billion people and about 40 per cent of the world's gross domestic product.
For New Zealand by far the most significant gain from RCEP would be access to India's protected market, particularly for exports such as dairy. New Zealand has strong access to most other RCEP member nations' markets through either the 11-nation CPTPP (Comprehensive and Progressive Agreement for Trans-Pacific Partnership) or the China Free Trade Agreement (FTA).
While 15 RCEP nations have agreed to both the text of the deal and to market access arrangements, India has been a hold out. The loss of India - with a population of 1.36 billion, and a$US2.9 trillion economy - is a big blow, but the other nations hope India can be included by 2020.
"All 15 nations have been able to reach agreement on text. One, India, has not been able to. All the nations enthusiastically endorsed where we've got to and left the door wide open to work actively with India to try and ensure that they can be part of the agreement that we hope can be signed next year", Minister for Trade Exports Damien O'Connor said.
New Zealand has a standing position of not signing up to free trade agreements with too many carve outs or exemptions.
At this stage, the plan is for India to go away and negotiate with each of the other 15 RCEP countries over market access, to be ready to sign the full deal by 2020. Given India's current position, its nationalistic ruling BJP party, and its suspicion of neighbour China, achieving that will be a tall order.
"It is regrettable negotiating partners were unable to conclude an acceptable market access outcome with India at this time," Jacinda Ardern said.
It appears that the problems are not simply related to market-based issues but also have a geo-political hue. With India concerned about potential economic dominance from China, O'Connor said there were plenty of issues.
"There are a number of them and they relate to the individual countries. Clearly China is a big player in this. India has some concerns about the level of trade that might occur there without an ability of India to counter some of that growth in trade", he said.
"Look we understand the realities of this and for us clearly there are issues around agriculture but we're committed to work with them and they've given us an assurance that they'll look at the issues, particularly around dairy", O'Connor said.
Both Ardern and O'Connor said that even without India, the deal will yield benefits over time, by providing a common set of rules across the region.
"We noted 15 RCEP Participating Countries have concluded text-based negotiations for all 20 chapters and essentially all their market access issues; and tasked legal scrubbing by them to commence for signing in 2020,' the official leaders' statement from ASEAN said.
"India has significant outstanding issues, which remain unresolved. All RCEP Participating Countries will work together to resolve these outstanding issues in a mutually satisfactory way. India's final decision will depend on satisfactory resolution of these issues," the statement said.
Earlier in the day Ardern wrapped up her East Asia Summit with a flurry of meetings, including with Donald Trump's latest US National Security Advisor Robert O'Brien, a silver-haired Mormon from California who called her a "superstar".
That capped off other bilateral meetings throughout the day with Chinese Premier Li Keqiang at which an update to the New Zealand China FTA was announced, and Vietnamese Prime Minister Nguyễn Xuân Phúc. She also attended the main East Asia Summit leaders meeting and the RCEP leaders' summit.
Next year's East Asia Summit will be held in Vietnam.
---