Panama: Wave of Protests
Panama, 21 Jan 2006 (Prensa Latina) Panamanian unions and civilian groups Friday warned they would continue pressuring the government in order to hamper signing of a Free Trade Agreement (FTA) with the US and support a similar pact with Chile.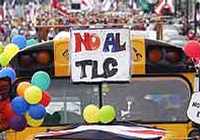 Agriculture and cattle rising representatives declared they would reject a FTA with Washington in the case that Panamanian zoo-sanitary regulations are avoided and national producers left unprotected.
However, they admitted that if Martin Torrijos' government responds to the demands then the agreement could even encourage development and would be welcomed.
Similarly, they highlighted the support given by Torrijos to the new implementation of an FTA with Chile as it seems promising and may serve as model for future similar agreements.
On the other hand, the National Front in Defense of Economic and Social Rights assumed a more radical position and devised a work plan whose most important activity will be a mass march on February 8.
The National Front firmly rejected the FTA with the US, the increase on electric tariffs and the law on Social Insurance that just came into effect.
The opposition group presented charges against authorities in the province of Chiriqui after the arrest of two leaders of the Construction Workers National Union.
Former President Guillermo Endara (1989-1994) joined demonstrations against the energy hikes since January 1. He criticized the abuses committed by private companies against the Panamanian people and called for the government not to act.
Panamanian university Employees Association, parliamentarians, individual citizens and other unions have so far joined the protests in defense of people's rights.
Juan Antonio Tejada, Panamanian public defender, criticized Torrijos' administration for its position regarding the increases on energy prices and described as symbolic the governmental contribution given to some Panamanian sectors.
---