People living with HIV lathi charged & arrested during demonstration against the EU-India FTA
People living with HIV lathi charged & arrested during demonstration against the EU-India FTA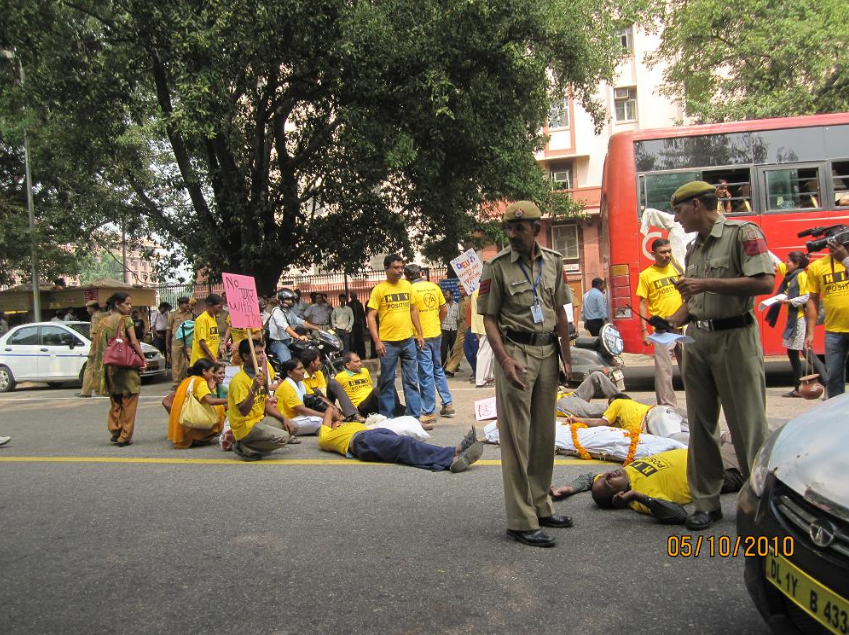 New Delhi, 6 October 2010 – As India resumes negotiations with the European Union (EU) in New Delhi today over a free trade and investment agreement (FTA) with India, the Delhi Network of Positive People (DNP+) held a mass 'Die In' in front of Udyog Bhawan (Ministry of Commerce) to protest against the inclusion of intellectual property (IP) provisions in the EU-India FTA.
The EU has been pursuing a number of intellectual property measures in the FTA negotiations with India.
Amid strong police presence the 'Die In' protest was held to emphasize the grave danger that countless human lives in developing countries would face if the FTA is finalized without removing the IP provisions. As DNP+ members were proceeding towards the final "die in", the Delhi police lathi charged (hit them with sticks) the HIV+ people and finally picked up five of the protestors. Few of the HIV+ people including a person suffering from spinal TB were beaten up by the police.
"Already with the implementation of WTO's TRIPS agreement in 2005, Indian generic companies cannot produce and supply new AIDS medicines that will be needed soon for patients failing second line antiretroviral therapy (ART). The reason – product patents in India", says Manoj Pardesi, from ITPC India, speaking at the protest held in New Delhi.
The EU-India FTA if concluded without removing the IP provisions will make matters worse as the EU is demanding provisions that will prolong patent terms by a number of years (patent term extension), delay the registration of generic medicines (data exclusivity), undermine the Indian judiciary's role of protecting patients and make the export of affordable generic medicines difficult (border measures).
"I'm using lamivudine, zidovudine and nevirapine and I know they are all generics," said, Vikas Ahuja from DNP+, who is receiving treatment at a government clinic in New Delhi. "I support this protest. If generic drugs are not available, I won't be able to care for my family. I won't be able to care for myself. We have to stop the FTA to stay alive!" he added.
The Indian Health Ministry is not the only treatment provider to rely on Indian generic manufacturers to supply quality, patient-friendly, low cost medicines. About four million people living with HIV in developing countries started AIDS treatment between 2003 and 2008, largely due to India's ability to produce low-cost quality medicines. A recent study published by the Journal of International AIDS Society however warns that upcoming trade agreements India is currently negotiating may close the tap on affordable medicines for people living with HIV.
"The impact of this proposed EU FTA with India is truly global, as AIDS treatment will become considerably more difficult to access with uncertainty about generic production in the future. We urge India to not 'sign on' to the FTA as the IP measures proposed by the EU directly threaten the supply of generic medicines for our patients in developing countries," said Paul Cawthorne, MSF's Campaign for Access to Essential Medicines.
Last week, 240 organisations from across the world including Treatment Action Campaign, Oxfam, Health Action International, People's Health Movement, networks of HIV+ people from African, Latin American and Asian countries wrote to the Indian Prime Minister about their concern – "EC is using the FTA negotiations with India to pursue 'TRIPS Plus' IP provisions and enforcement rules that will hinder the production and flow of life-saving generic medicines."
Europe's attack on generics is not limited to FTA negotiations with India. The EU is pursuing FTAs with similar provisions on IP with Brazil, Thailand, Indonesia, Philippines and now South Africa. EU customs has been seizing Indian generic medicines on their way to developing countries at its ports, justifying the action under a controversial domestic regulation. This week in Tokyo, Europe is participating in negotiations for the conclusion of the proposed Anti-Counterfeiting Trade Agreement (ACTA) between developed country governments and pushing for IP enforcement measures that deliberately target generic medicines.
"We are starting to see the extent of EU's attempts to stop production and access to generic medicines," said Shiba Phurailatpam, Asia Pacific Network of people living with HIV/AIDS (APN+). "These attempts threaten the lives of many of us who depend on generic medicines. We cannot and will not allow the EU to push the agenda of its companies at the cost of our lives," he added.
EU India FTA negotiations are expected to conclude before the end of 2010.
Contact: Shailly Gupta @ +91 9899976108
---