Peruvian trade union protests and strikes continue
Granma International (Havana) | July 11, 2007
Peruvian trade union protests and strikes continue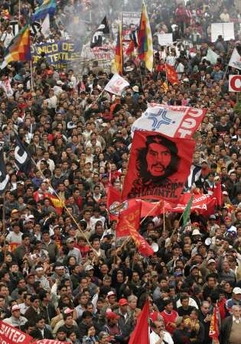 Lima, July 12 (PL). - Despite threats of military repression by the government, activists said today they would continue the general strike called by the General Federation of Peruvian Workers, which is demanding a better distribution of wealth.
The workers' federation opposes the policies of President Alan García, who is completing the first year of his second mandate.
The actions began yesterday, coming in addition to a teachers' strike that began eight days ago.
Likewise, the National Agrarian Federation will continue its protest against a free trade agreement with the United States.
On Wednesday, various actions virtually brought the country to a halt, as workers blocked highways and took over buildings. According to a Peruvian radio station, one of the largest actions, which left a number of people injured, was the takeover of Juliaca airport, 845 km southeast of Lima, where protestors occupied the tarmac.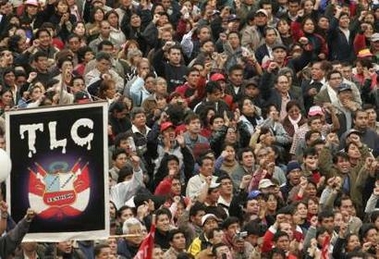 In the capital, a march led by leaders of SUTEP, the teachers union, was joined by former presidential candidate Ollanta Humala.
And in the southern city of Arequipa, demonstrators blocked sections of the Panamericana Sur and Arequipa-Puno highways as part of an ongoing strike called by the Frente de la Macrorregión Sur.
President García called the demonstrators "radical, suicidal and crazy." He had said previously that the wave of protests has nothing to do with a national crisis, and is instead about small groups who are losing their privileges.
After the announcement of a general strike, the government issued a decree, published on Tuesday in the official newspaper El Peruano, authorizing a 30-day deployment of the Armed Forces to enforce public order and support the police.
Translated by Granma International
---