Review of FTA with Asean will help balance trade: PM Narendra Modi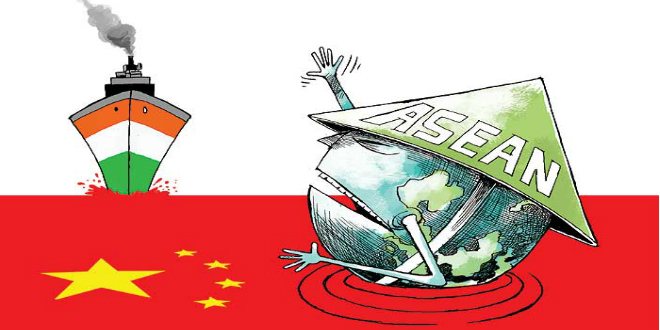 Live Mint - 03 November 2019
Review of FTA with Asean will help balance trade: PM Narendra Modi
By Elizabeth Roche
Prime Minister says the region is and always will be the heart of India's Act East Policy
Niti Aayog said India's trade deficit with Asean, Korea and Japan has widened post-FTAs
Prime Minister Narendra Modi on Sunday said a review of India's free trade agreement with the Association of Southeast Asian Nations (Asean) will help balance trade between the two, amid concerns in New Delhi that Regional Comprehensive Economic Partnership (RCEP), a mega trade deal bringing together Asean, India, China and others could cause India's trade deficit to widen and leave its industries at a disadvantage.
In his initial remarks at the India-Asean meeting in Bangkok on Sunday, Modi said that "Asean is and always will be the heart of our Act East Policy. Integrated, organized and economically developing Asean is in India's basic interest. We are committed to further strengthen our partnership through stronger surface, maritime and air-connectivity and digital-link."
On trade, Modi welcomed "the decision to re-examine the India Asean FTA (free trade agreement). This will make our economic links stronger and will make our trade more balanced." He was referring to a decision by India and the 10-member Asean to relook at their bilateral pact in goods to make it "more user-friendly, simple and trade facilitative" after a meeting between Asean economic ministers and India in September. Bilateral trade between the two sides has increased to $80.8 billion in 2018 from $73.6 billion in 2017.
The comments come as India is engaged in tough negotiations with the Asean and five other countries—Japan, South Korea, Australia, New Zealand and China—to establish RCEP, a regional trading bloc. If finalized, it will create the biggest free-trade region in the world as the 16-nation grouping is home to 3.6 billion people, nearly half the world's population. Asean and its other partners in the potential RCEP region already accounts for 40% of global commerce.
New Delhi has its concerns though—given that its FTA with Asean is stacking up trade deficits with several Asean partners. A recent paper by India's government policy think-tank NITI Aayog said "India's trade deficit with Asean, Korea and Japan has widened post-FTAs."
"Overall, it can be concluded that India's quality of trade has not improved under AIFTA (ASEAN-India FTA)," it added.
In an interview to the Bangkok Post, Modi said India has put forward "reasonable proposals" in a clear manner and is engaged in talks with "sincerity" for the free trade deal. "India remains committed to a comprehensive and balanced outcome from the ongoing RCEP negotiations. Their successful conclusion is in the interest of everyone involved. Hence, India seeks balance across goods, services and investments, and also within each pillar," Modi said.
Commerce minister Piyush Goyal was in Bangkok for crunch talks with his counterparts over the weekend.
Vijay Thakur Singh, Secretary East, in the Indian foreign ministry declined to answer any questions on RCEP on Sunday saying: "Wait till tomorrow (Monday) for RCEP," she said.
India's concerns stem from the fact that it already has a bilateral trade deficit of over $50 billion with China. Under the liberal rules of origin under RCEP, India apprehends that items on which duty cuts have not been given to Beijing, may end up from China via other RCEP member countries.
Modi also had three bilateral meetings on the sidelines of his Asean engagements — with the Thai prime minister Prayut Chan-o-cha, Indonesian president Joko Widodo and Myanmar's State Counsellor Aung San Suu Kyi. Increasing defence cooperation, improving connectivity and economic links were the main themes during the three meetings.
---