Right to health, medicine to be protected at all cost: Scindia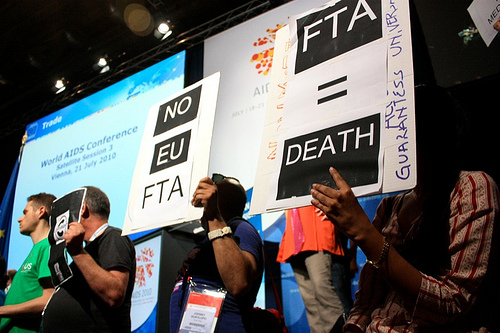 Economic Times | Aug 19 2010
Right to health, medicine to be protected at all cost: Scindia
NEW DELHI: India has said that it will not compromise on issues related to health and people's right to medicine in the bilateral trade and investment agreement being negotiated with the European Union.
The EU has been trying to persuade India to take on commitments that go beyond those under the multilateral intellectual property agreement Trips.
"The government is fully alive to the need to protect people's rights to both medicines and health and there is no question of compromise on this issue," minister of state for commerce and industry Jyotiraditya Scindia said in Rajya Sabha on Wednesday.
The negotiations in the proposed India-EU trade and investment agreement are ongoing and the final position in all sectors including IPR have not yet emerged, he added.
The India-EU trade and investment agreement proposes to liberalise trade in goods, services and investments.
Commitments on intellectual property beyond what has been agreed under the Trips agreement of the WTO will be a big blow to India's generics industry, or producers of off-patent medicine, as it could lead to extension of patent life beyond the normal 22 years.
Such a provision will increase the cost of medicines in the country as it would discourage generics which cost a fraction of patented medicines.
The EU also wants India to give data exclusivity, which would grant exclusive marketing rights to the first applicant for a pharmaceutical product that may not have patent protection.
India had already tightened its patent regime considerably in 2005 when it moved to a product patent regime from a process patent one because of its obligations under the global trade agreement.
---