Russia readies tighter customs if Ukraine signs EU deal: report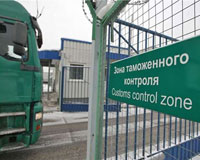 Reuters | | Sun Aug 18, 2013
Russia readies tighter customs if Ukraine signs EU deal: report
MOSCOW
(Reuters) — Russia is preparing tighter customs controls with Ukraine in case Kiev makes the "suicidal" move of signing an association agreement with the European Union, an aide to President Vladimir Putin was quoted as saying on Sunday.
Russian border guards imposed new time-consuming checks on all Ukrainian cargo last week as Putin piles pressure on Kiev to join a Moscow-led regional trade bloc.
Ukraine has refused to join because it hopes to sign a free trade and political association agreement with the EU in November and the two deals are mutually exclusive.
Sergei Glazev, who advises Putin on developing the trade union, on Sunday said the additional checks of Ukrainian imports were a one-off and only temporary but warned Kiev should expect more such measures if it goes ahead with its European plans.
"We are preparing to tighten customs procedures if suddenly Ukraine makes this suicidal step of signing the EU association agreement," Glazev said, according to state-run news agency RIA.
Russia is the largest consumer of Ukrainian exports but ties between the two have deteriorated over Kiev's European aspirations as well as trade and gas rows.
Sweden's Foreign Minister Carl Bildt said it "would be very serious" if Russia waged a trade war against Ukraine to prevent it from deepening ties with the EU.
But there has also been growing frustration within the 28-nation bloc over lack of progress in talks with Kiev. Brussels is concerned about Ukraine's protectionist policies and what it says is persecution of political rivals, especially the jailed former Prime Minister Yulia Tymoshenko.
There could be no talk of a trade war between Kiev and Moscow, a statement from Ukraine's Prime Minister Mykola Azarov said on Sunday after he discussed the case with Russian counterpart Dmitry Medvedev by telephone.
A corresponding statement in Moscow said more talks on solving the row were due in the next days.
(Reporting by Gabriela Baczynska; Editing by Alison Williams)
---