Seed prices a tough nut in Thai-EU free trade talks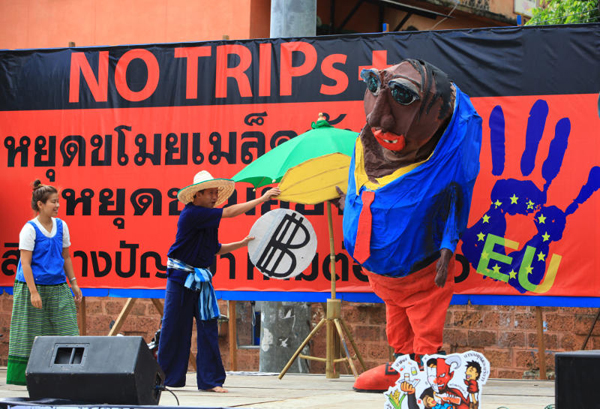 Bangkok Post | 9 Nov 2013
AGRICULTURE
Seed prices a tough nut in Thai-EU free trade talks
By Nanchanok Wongsamuth
Concerns that the Thai-EU Free Trade Agreement (FTA) will cause a huge hike in seed prices are unfounded, industry experts say.
While activists fear that farmers will be further in the grip of agro-giants that control farm chemicals and commercial seeds, Ananta Dalodom, president of the Horticultural Science Society of Thailand, cautions opponents not to lean too far to the extreme side.
He acknowledged that Thailand's seed law, enacted in 1999, has flaws in terms of definition and execution but said critics are sometimes overly concerned the new international law will harm the livelihood of farmers.
Opponents of the FTA such as Witoon Lianchamroon, director of the BioThai Foundation, say the trade deal would extend patents on plant varieties, forcing Thai farmers to pay triple the current price for seeds.
The concern is the EU will press Thailand to adopt the 1991 International Convention for the Protection of New Varieties of Plants, which would extend plant patents to between 20 and 25 years, up from 12-20 years under Thai law.
But Mr Ananta, a former director-general of the Agriculture Department, brushed aside such talk.
"The fear that the new law will be a form of monopoly resulting in farmers having to pay more for seeds is an extreme view," he said.
"We have lots of extreme views going on right now such as the protests against the construction of the Mae Wong Dam."
He said farmers should accept the fact that prices will be higher for hybrid seeds with higher yields.
The private sector, meanwhile, says it is only fair for companies to have protection if they spend the money to develop seeds with higher yields.
"If there is adequate protection, would that mean we will raise our prices? No," said Joost Pekelharing, the president of East-West Seed. "It is based on unfounded fear, and people are misguided."
Meanwhile, the cost of seeds is a small component of overall cost - 5% of total input cost excluding labour.
"Thailand has everything in favour except regulations, which will be a big challenge for Thailand if it wants to become the seed hub of the region," said Mr Pekelharing.
Agriculture Department data show that last year, Thailand exported 18,380 tonnes of 37 types of controlled seeds worth 3.9 billion baht excluding rice and palm oil. The highest value was in maize, totalling 1.36 billion baht.
Prasert Kongkiatngam, the general manager of Hortigenetics Research (SE Asia), a unit of East-West, said there are few cases of "seed copying" except for high-value seeds such as maize.
Copying is not hard to do, as "pirates" can get hold of a new variety when it is tested in various parts of the country. Some products even reach the market before the company's actual launch.
While some firms in Thailand make seeds under their own brand, others act as original-equipment manufacturers, often for countries that lack the right climate or where wages are too high.
"There is perfect competition in Thailand's seed market, as no one has a monopoly," said Mr Prasert.
"But if we want to become a seed hub, who would want us to produce seeds if we have a weak law?"
---