Singapore, EU ink landmark free trade agreement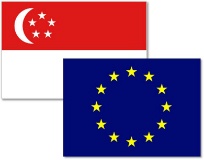 Channel NewsAsia, Singapore
Singapore, EU ink landmark free trade agreement
19 October 2018
By Tang See Kit
BRUSSELS: Singapore and the European Union (EU) on Friday (Oct 19) inked a landmark trade deal that will eliminate tariffs and give businesses across various sectors, especially small- and medium-sized enterprises (SMEs), better market access.
Taking place on the sidelines of the 12th Asia-Europe Meeting (ASEM) Summit in Brussels, the EU-Singapore Free Trade Agreement (EUSFTA) was signed by Prime Minister Lee Hsien Loong with European Commission president Jean-Claude Juncker, European Council president Donald Tusk and Austrian Chancellor Sebastian Kurz. Austria is the current president of the EU Council.
The leaders also witnessed the signing of the EU-Singapore Investment Protection Agreement (EUSIPA) – a pact that will replace 12 existing bilateral investment treaties between Singapore and EU member states to offer better investment protection – and the EU-Singapore Partnership and Cooperation Agreement (ESPCA).
The 28-member European bloc is Singapore's biggest foreign investor, as well as the third largest trading partner with bilateral trade in goods exceeding S$98 billion last year. The EU was also Singapore's largest market for services trade at more than S$74 billion in 2016.
On the other hand, Singapore is the EU's biggest trading partner in goods and services within Southeast Asia.
The newly signed EUSFTA – described by Mr Lee in an interview with BBC Radio 4 on Friday morning as an "ambitious" trade pact that is "very important" for the Singapore economy – is expected to boost trade between Singapore and the EU by 10 per cent within five years of entering into force.
For Singapore, total trade will likely gain 1.1 per cent, translating into a 0.27 per cent increase in gross domestic product, said a statement from Singapore's Ministry of Trade and Industry (MTI).
MTI said the EUSFTA will pave the way for greater market access and more government procurement opportunities for businesses, as well as the removal of tariffs and reduction of non-tariff barriers, among other things.
For instance, Singapore will eliminate tariffs on all EU products entering Singapore, the EU will also remove tariffs on 84 per cent of Singapore products entering the EU, and do so for the remaining 16 per cent over the next three to five years.
The deal also includes flexible rules of origin for key exports such as automobiles, electronics and pharmaceuticals from Singapore and the EU into each other's markets.
Notably, the EUSFTA will have the concept of "ASEAN cumulation" for key exports from Singapore. This means that materials sourced from other ASEAN member countries can now be deemed as originating from Singapore and qualify for tariff concessions.
It also marks the first bilateral trade deal to secure enhanced market access for Asian food products made in Singapore. Products like roti prata can now enter the EU without tariffs, up to a combined quota of 1,250 tonnes annually.
Market access into a wide range of services sectors, including financial services and professional services, will also be enhanced, while Singapore firms can look forward to "sizable" government procurement opportunities at both the city and municipal levels.
A BOON FOR BUSINESSES, ESPECIALLY SMEs
In a separate interview with Singapore reporters ahead of the signing, Communications and Information Minister S Iswaran said while the EUSFTA is set to benefit businesses across the board, SMEs can gain more due to better transparency and clarity in how they can venture into the EU or Singapore market.
Home-grown firms that Channel NewsAsia spoke to said they are looking forward to broadening their ventures in the EU.
Instant noodle maker Tat Hui Foods, for one, said the elimination of tariffs will help make its brands, like Koka, more competitive.
"In Europe, Singapore products are seen as good but expensive. The FTA will help us to be more competitive price wise," said executive director James Lim. "Singapore has a good name, good food safety standards so we need this extra plus to get into more markets."
The United Kingdom is the company's biggest market in Europe but Mr Lim said he is not too worried about the impending Brexit for now. In turn, he is pinning his hopes for the EUSFTA to boost sales from other EU markets, such as France and Spain.
CapitaLand is also gearing up for more investments in commercial real estate and looking to expand its lodging portfolio in Europe.
CapitaLand International's chief executive Gerald Yong said: "We stand to benefit from the expected uptick in flow of investment, expatriates and business travellers in both markets, which will in turn generate greater demand for our lodging and commercial properties.
"We can also look forward to greater competitive edge and equal treatment as EU companies when bidding for contracts in the region."
WHAT HAPPENS NEXT
But beyond bilateral economic benefits, the signing of the EUSFTA has a "larger signalling effect" given the backdrop of brewing trade tensions between the United States and China, Mr Iswaran said.
"Whilst there are these larger trade frictions, it's important that like-minded nations come together and continue the momentum in terms of building on the rules-based multilateral system so that we can create opportunities for our businesses and our people," he said.
Negotiations for the EUSFTA began in 2010 and were concluded in 2014. However, the ratification was delayed after the European Commission decided to ask the court in 2015 if the EU had the exclusive competence to sign and conclude the EUSFTA.
Now that it is signed, the EUSFTA and EUSIPA will be discussed and voted upon by the European Parliament – a process likely to take place in the first quarter of 2019. Once approved, the EUSFTA can be ratified and entered into force.
Mr Iswaran said he shared the optimism of European Trade Commissioner Cecilia Malmstrom for a speedy ratification.
"(Malmstrom) was very optimistic that the EUSFTA can get full support by sometime in the first quarter of next year so our own hope is for the FTA to come to a full closure sometime in the first half of next year."
In the case of the EUSIPA, which needs to be ratified by each of the 28 EU member states, Mr Iswaran said it might be "more tricky" but he remains hopeful given that individual EU member states recognise the need for trade pacts to help their businesses venture into Singapore and the rest of Asia.
On Singapore's future trade ties with Britain, Mr Lee said in his interview with BBC Radio 4 that Singapore hopes to continue arrangements with the country, whether or not it is inside the EU.
The UK, which voted to leave the EU in a referendum in 2016, is set to exit the bloc at the end of next March. It remains, however, in talks with the EU on the terms of exit.
Britain stays in the EUSFTA for now but in a post-Brexit scenario, a "short form agreement" could be feasible between both countries, said Mr Lee.
This could involve using the EUSFTA as a reference point and have the benefits applied to Britain in the separate deal.
""In the first instance, we can do what the trade people call in their jargon a short-form agreement, which is basically to continue to do with Britain what we have agreed to do with the EU as if you were still inside it.
"And then we have time to work some better, long-term arrangements over time," said Mr Lee, who revealed that he has discussed this possibility with UK Prime Minister Theresa May and he thinks "it can be done".
---