Sri Lanka seeks tripartite arrangement for trade and investment with India and Singapore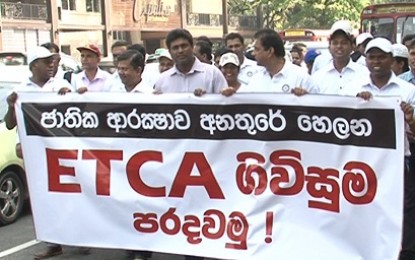 Colombo Page | 10 January 2017
Sri Lanka seeks tripartite arrangement for trade and investment with India and Singapore

Sri Lanka is keen to establish a tripartite arrangement for trade and investment with India and Singapore, Deputy Minister for Foreign Affairs Harsha de Silva has said.
According to the Deputy Minister, Sri Lanka aims to conclude Economic Technology Cooperation Agreement (ECTA) with India for services this year, and is negotiating a free trade agreement (FTA) with Singapore, a Press Trust of India report said.
Speaking on 'Sri Lanka's Role in the Indian Ocean and the Changing Global Dynamic' at the 'The Indian Ocean' forum organized by the Institute of South Asian Studies in Singapore on Monday, Dr. de Silva said the ETCA will enhance the scope of the existing India-Sri Lanka FTA to extend freer movement of goods and services with the added emphasis on cooperation in the development of technology and in investments.
The three trade pacts, including India-Singapore Comprehensive Economic Cooperation Agreement, will enable South Asia and Singapore to establish a tripartite arrangement for trade and investments, he said highlighting that Sri Lanka's goal to boost exports to USD 20 billion by 2020.
He said the geo-political realities require that Sri Lanka builds strong bilateral relations with Bay of Bengal members of ASEAN, in addition to its fellow South Asian members as Sri Lanka cannot be content with its traditional markets.
"We must look beyond for new opportunities," said de Silva.
The Deputy Minister said Sri Lanka is supporting China's One Belt - One Road economic initiative, in line with the major historical role it played in the Maritime Silk Route.
"This will consolidate our position to become the hub of the Indian Ocean while further integrating us with the Asian markets," said de Silva.
---