Stop the shameful EU-Colombia Free Trade Agreement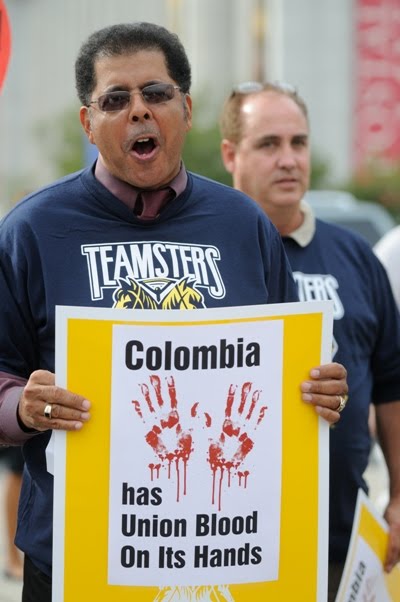 éirígí Sligeach | Saturday, June 19, 2010
Stop the shameful EU - Colombia Free Trade Agreement
Speaking on the recently agreed Free Trade Agreement between the European Union (EU) and Colombia before the International Trade Committee of the European Parliament (INTA) in Brussels in March of this year, Karel De Gucht European Commissioner for Trade, claimed that Colombia "is genuinely striving to put a final marker to its history of violence and despair".
Referring to their human rights record, De Gucht went on to claim that "the situation has been steadily improving in recent years".
His comments however, while not surprising from an EU official, are completely untrue. In fact the complete opposite is the case. As a result the EU has come under pressure from human rights campaigners and Trade Union organisations both in Europe and Colombia itself not to ratify this or any similar deals with Colombia while these abuses continue.
In direct contradiction to De Gucht's claims, Justice for Colombia (JLC) in a submission opposing this agreement revealed "that assassinations of trade unionists, extrajudicial executions, forced displacement, torture and forced disappearances have all recently increased".
Over recent years, Colombia has already received preferential trading status with the EU through a scheme entitled the General System of Preferences plus (GSP+). This scheme and the special benefits that apply, was intended solely for countries that respect certain basic human rights and the rights of workers.
Qualifying countries were obliged to not just ratify a number of international conventions on labour rights and human rights. More importantly, they were obliged to "effectively implement" these international conventions. Among the rights enshrined in these conventions are the right to protection to organise and collective bargaining, as well as the right to freedom of association.
While Colombia have ratified the necessary conventions, they quite clearly failed to implement them as successive reports from human rights organisations revealed. The Colombia regime consistently violated and continue to breach these and other International Labour Organisation (ILO) conventions on a daily basis.
However, as in Israels case also, the EU have chosen to deliberately ignore their own conditions and responsibilities relating to human rights compliance imposed as part of their dealings with Colombia.
As De Gucht himself said in his address about this new deal "the Agreement contains a solid HR (human rights) clause. It allows for the immediate and unilateral adoption of appropriate measures – including suspension - whenever an essential element of the Agreement has been violated".
Furthermore, he added that "the threshold for unilateral suspension is, significantly lower since - in this case - there is no requirement of a qualified violation of an essential element, but a simple violation would suffice".
Fine words, words that taken at face value would make many believe that Colombia would face sanction and suspension from their agreements with the EU in the event of any human rights violations.
The reality however is that, in the face of the overwhelming evidence of Colombia's ongoing human rights violations, the EU have turned a blind eye to these flagrant abuses and have refused to implement the conditions of their own current agreements which would result in the suspension of Colombia from these deals.
As with the EU's relationship with Israel, the EU continue to shamefully overlook and ignore the vast scale of human rights abuses, including political repression, arbitary arrest, displacement, torture and murder committed by the Colombian regime against its political, social and trade union opponents.
Again, just as with Israel, it is Colombia's close political and military relationship with the United States, that lies behind the EU's decision to forge closer ties with Colombia and to grant them special trading status denied to many countries with better human rights records.
Colombia continues to remain the most dangerous country on the planet to be a Trade Unionist. Last year (2009) there were more than 500 attacks on Trade Unionists, resulting in 48 of then being murdered.
Already this year, more than 30 union activists have been murdered. According to the International Trade Union Confederation's (ITUC) 2010 Annual Survey of Trade Union Rights (click here to read it) released earlier this month, for the past 23 years "trade unionists in Colombia have been killed at the rate of one every three days".
ITUC General Secretary Guy Ryder said that "Colombia was yet again the country where standing up for fundamental rights of workers is more likely than anywhere else to mean a death sentence, despite the Colombian government's public relations campaign to the contrary".
Almost all were killed by either the military or their allies in the right wing death squads. Highlighting these attacks on Trade Unionists, JFC's submission outlined how "impunity remains the norm in the vast majority of cases of human rights violations".
This is backed up by the United Nations Committee on Economic, Social and Cultural Rights who expressed their alarm last month at the continuing murders of trade unionists who they said remained "victims of various forms of threats and violence". The Committee also highlighted the impunity with which those carrying out attacks on trade unionists operate, pointing out how only "a small number of acts of violence against trade-unionists were investigated".
In its report published at the end of 2008 entitled "LEAVE US IN PEACE - TARGETING CIVILIANS IN COLOMBIA'S INTERNAL ARMED CONFLICT" Amnesty International said that "Over the last 20 years, paramilitary groups – acting in co-ordination with, or with the acquiescence of, the security forces – have been responsible for the largest number of killings of civilians. However, especially since the start of the paramilitary demobilization process in 2003, there has been an increase in reports of extrajudicial executions carried out directly by the security forces. Around 330 extrajudicial executions33 by the security forces were reported in 2007, compared to some 220 a year in 2004-2006, 130 in 2003, and around 100 in 2002. Most victims have been either campesinos or community leaders who the security forces have falsely claimed were guerrillas killed in combat".
Earlier this year the United Nations Committee against Torture confirmed these continuing human rights abuses by the right wing death squads and their Colombian military allies. According to its latest report on Colombia it said that"paramilitary groups continue to operate and to commit serious human rights violations .... and continue to be able to count on the support or acquiescence of sectors of the security forces".
Despite all of this overwhelming evidence, the European Commission pressed ahead with the Agreement.
Concluding his speech back in March, De Gucht stated that "he was determined to leverage this agreement to the maximum possible extent to promote and ensure respect for human rights, democracy and the rule of law."
There is nothing new in these words. The EU regularly pay lip service to the notion of upholding human rights. But actions speak louder than words.
To date the EU have failed to sanction Colombia or suspend their special trade status under the GPS+ scheme. They have proceeded to sign this latest trade agreement with them this year despite the regime's ongoing violations of their obligations under this and previous deals.
Such actions expose the hypocrisy and double standards of the EU's supposed "commitment" to human rights. Their continued bankrolling of the Colombian regime also makes them complicit in the abuses and war crimes carried out by Colombia.
---