Thailand aims to join TPP trade deal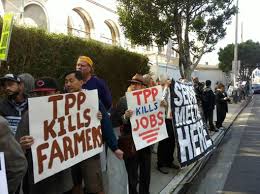 The Japan Times | 25 April 2018
Thailand aims to join TPP trade deal
Thailand intends to join the new 11-member Trans-Pacific Partnership free trade deal, The Yomiuri Shimbun has learned.
Thailand is preparing to join the deal, which counts Japan and Australia among its members, after it takes effect. The existing 11 member countries are seeking to have it take effect this year.
Thailand would be the first additional country to join the TPP — a move that could boost the deal's prospects for further expansion.
Japan, as the largest economy among the 11 members, seeks to exchange views with Thailand about issues including its procedures for joining the deal. The government is considering dispatching Toshimitsu Motegi, minister in charge of economic revitalization and the TPP, to Thailand during the holidays starting at the end of this month. The trip would require Diet approval.
Thailand's exports to the 11 countries stood at $70.3 billion in 2017 — about 30 percent of its total export value. In joining the TPP, Thailand would aim to increase its exports to those countries.
Additionally, Thailand had extra impetus to avoid being left out of the deal due to the prospects of foreign investments from nations including Japan being poured into member countries such as Vietnam and Malaysia.
In 2017, Japan's exports to Thailand came to about ¥3.3 trillion, and its imports from Thailand came to about ¥2.5 trillion, according to Finance Ministry trade statistics.
Thailand, which has strong economic ties with Japan, has been a major production base for Japanese automakers. Large amounts of marine products, such as shrimp, have been exported to Japan from the nation.
According to local media reports, Thailand's deputy prime minister instructed the government in March to start preparing for participation in the TPP.
---