The FTA between Peru and Australia will enter into force in February 2020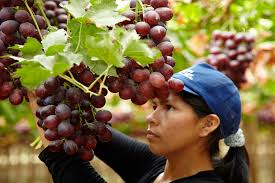 Fresh Plaza - 18 December 2019
The FTA between Peru and Australia will enter into force in February 2020
The Free Trade Agreement (FTA) between Peru and Australia will enter into force in February 2020, stated the head of the Ministry of Foreign Trade and Tourism (Mincetur), Edgar Vasquez. This commercial agreement was ratified by Peru on February 22 through Supreme Decree No. 009-2019-RE. However, the agreement couldn't enter into force because Australia didn't notify the completion of its internal procedures to Peru until December 13.
"With the entry into force of the FTA, 96% of the Peruvian products exported to Australia will enter that market with zero tariffs from day one. The tariffs on the remaining of the products will be eliminated in a maximum of four years," the Minister stated.
Some of the Peruvian agricultural products that will benefit from the implementation of the FTA with Australia are avocados, fresh grapes, blueberries, tangerines, and asparagus.
This commercial agreement will also provide opportunities for service export companies and will attract more Australian investment to Peru. The trade between Peru and Australia has doubled in the last ten years, reaching 330 million dollars in 2018.
---