TIFA negotiations: A case of irradiating mangoes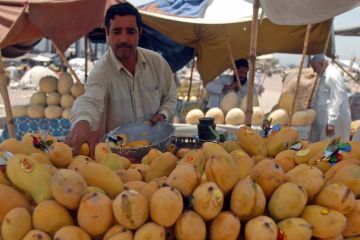 The Express Tribune | September 22, 2011
TIFA negotiations: A case of irradiating mangoes
By Shahbaz Rana
Trade talks between Pakistan and US bear fruit.
ISLAMABAD: Pakistan and the US have vowed to enhance economic cooperation despite soaring political tensions. Both countries have decided to continue trade negotiations with a view to an early finalisation of the Bilateral Investment Treaty. Among the agreements reached between the two countries was a loosening of regulation on mango exports.
The two countries met on the second day of the Trade and Investment Framework Agreement (TIFA) meeting. TIFA was signed in 2003 to enhance bilateral economic relations.
Secretary Commerce Zafar Mahmood represented Pakistan, while the US delegation was led by Assistant Trade Representative for South Asia Michael J Delaney.
An official from the Commerce Ministry said on condition of anonymity that progress has been made as the parties have budged from their previously stated positions. He said the US has agreed to withdraw from its demand for a new draft of the treaty. Pakistan and the US will now attempt to finalise the agreement based on the existing draft.
Pakistan also decided to review its opposition to the US demand that in case of any dispute the government of Pakistan would be responsible for private parties' actions. The offices of the Attorney General of Pakistan and the law minister have thus far opposed this condition.
The US would prefer to settle disputes according to its own national laws, as US investors are reluctant to indulge in legal battles in Pakistan.During the current period of strained Pak-US ties, both countries have reiterated that they will still meet again in 2012 to hold a sixth round of TIFA.
The US agreed to Pakistan's demands to relax export rules on mangos. Mangoes will now be irradiated in Lahore. The earlier requirement that they pass through an irradiation plant in Iowa has been repealed. Pakistan hailed the US's reversal, saying that exporting mangoes to the US is now a viable business.
Both sides could not make headway on establishing trade clusters at the Pakistan-Afghanistan border. The plan is in theory intended to address a root cause of terrorism by creating job opportunities. The US delegation conveyed that despite recognising the need to pass enabling legislation for setting up Reconstruction Opportunity Zones (ROZ), the US Senate does not currently have the appetite to pass the bill. Apparently Congress first wants to pass bilateral trade agreements with Panama, Colombia and South Korea. The ROZ issue is not a priority for US lawmakers.
The US also raised the issue of violations of Intellectual Property Rights and asked Pakistan to enforce these laws with robust legislation. Pakistan has given assurances that it would present a bill in parliament. However, Islamabad showed its
inability to address the issue of data exclusivity.
---