Time has once again come to wind up SAARC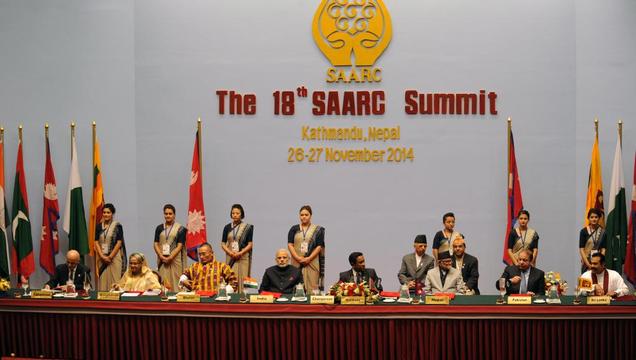 New Indian Express | 1 October 2016
Time has once again come to wind up SAARC
By Sanjaya Baru
More significant than Afghanistan's decision to back India's call for a cancellation of the SAARC Summit in Islamabad this November is that of Bangladesh. SAARC was a Bangladeshi initiative taken in 1980. However, it is useful to recall that the leadership for the SAARC initiative was provided by Bangladesh's former president ZiaurRehman, an avowedly anti-India leader who took Bangladesh closer to China and the Islamic world.
To begin with, SAARC's most enthusiastic promoters were Bangladesh and Sri Lanka. Pakistan too was a reluctant recruit.President Rehman viewed SAARC as a trade union of smaller South Asian nations that could stand up to India. For precisely that reason India was slow to cosy up to the initiative. After initial resistance, India decided to go along with its neighbours.
The first SAARC heads of government summit met in Dhaka in December 1985. Over the subsequent decade and a half, SAARC's achievements were limited. By the turn of the century, in 2000, intra-SAARC trade remained as abysmally low as ever. SAARC's failure to push for greater regional economic integration encouraged some member countries to enter into bilateral free trade agreements (FTAs). Thus, India entered into bilateral FTAs with Bhutan, Nepal and Sri Lanka. India and Bangladesh do not have an FTA but have been liberalising trade within the SAARC framework as well as that of BIMSTEC – Bay of Bengal Initiative for Multi-sectoral Trade and Economic Cooperation.
In 2001 I had suggested in a talk delivered at the India International Centre in New Delhi that SAARC had failed to meet the expectations of its members, especially India, and ought to be wound up. In fact, the launch of BIMSTEC, in the context of India's "Look East Policy", offered India the opportunity to move away from SAARC. India's growing engagement with the ASEAN, the East Asian community building process and the East Asia Summit (EAS), also reduced the salience of SAARC.
During Prime Minister Manmohan Singh's first term in office, he injected new energy into SAARC partly with the hope of speeding up the India-Pakistan normalisation process. Prime Minister Singh authoriszed several new initiatives under the SAARC umbrella hoping India's earnestness in reviving SAARC would help reassure her smaller neighbours.
However, that hope was shortlived. Pakistan's intransigence on the economic integration agenda and its growing support for cross-border terrorism militated against any serious revival of the SAARC process.
SAARC has singularly failed in meeting any of its objectives. As a result, India's focus has been on bilateral relations in South Asia. The recent sharp improvement in India-Bangladesh relations augurs well for closer economic engagement. More importantly, it has the potential to speed up India and Bangladesh's integration into the Southeast Asian regional integration process. The new road, rail and sea connectivity projects can further enhance regional economic integration.
While Sri Lanka has also sought postponement of the Summit, even though Pakistan-Sri Lanka military and economic ties have become stronger, Nepal's reluctance till date in joining the Indian boycott call would be for two reasons. First, Nepal is the current chair of SAARC and would like the summit held on schedule. Second, Nepal has acquired a stake in SAARC with the association's secretariat located in Kathmandu. Nepal may also be under pressure from China to keep SAARC alive since China is keen on becoming a member of SAARC and acquiring a foothold in a South Asian regional association that reaches out in to the Indian Ocean region.
Even as India-Pakistan tensions have vitiated SAARC, growing Chinese assertiveness in South Asia and China's insistent pressing of its membership demand has also raised doubts about the relevance of SAARC. Chinese membership of SAARC will not only strengthen anti-India elements within South Asia, but India-China tensions will further complicate SAARC's functioning.
Given that it is India-Pakistan differences on border issues and on the status of Jammu & Kashmir that have vitiated SAARC, India would have to insist that China's membership of SAARC would be contingent upon a final resolution of the India-China differences on the border and on the Kashmir question.
Both on account of bilateral differences within SAARC and its failure to accelerate regional economic integration, the time has once again come to wind up SAARC. India's focus should be on sub-regional associations like BBIN - Bangladesh, Bhutan, India and Nepal — and extra-regional ones like BIMSTEC. Between the two almost all SAARC members get drawn in. A view may be taken on how to engage Afghanistan and the Maldives, both of which countries have an important link with India, even though China's shadow falls ominously on the two.
Till Pakistan can become a normal country, a normal trading partner of all SAARC nations, and has normal relations with all SAARC members, there is little point in SAARC continuing to meet. Much less in such a meeting happening in Pakistan.
Even as India and others boycott SAARC, they must accelerate economic integration. India should address the concerns of countries such as Bangladesh and Nepal while investing in regional connectivity.
Prime Minister Narendra Modi's recent initiatives towards Afghanistan, Bangladesh, Nepal and Sri Lanka are all welcome ones. Hopefully, the situation in Maldives too gets normalized and a democratically elected leader returns to power. Bhutan has never been a problem country, but should never be allowed feel that its size constrains its engagement with India.
(The author is Distinguished Fellow, United Service Institution of India, New Delhi)
---