Timely evolution of Indonesian-Chilean trade relations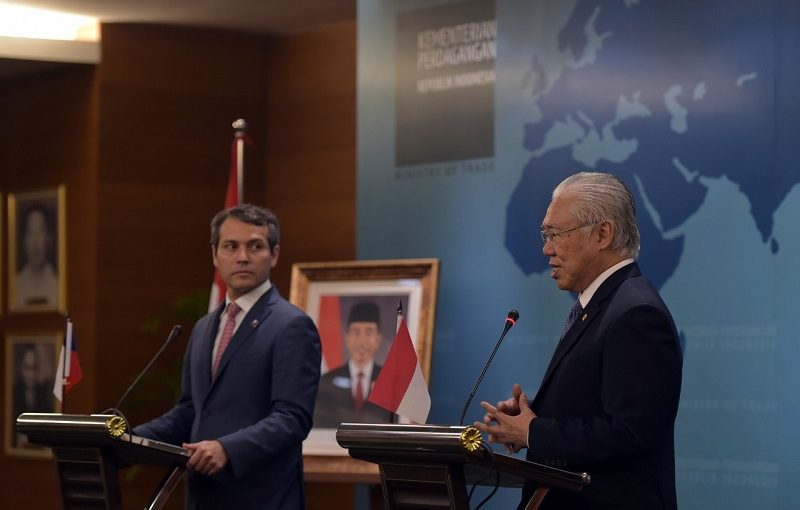 The Jakarta Post - 9 September 2019
Timely evolution of Indonesian-Chilean trade relations
By Muhammad Anshor - Indonesian ambassador to Chile
Indonesia and Chile have entered a new chapter of bilateral relations with the Indonesia-Chile Comprehensive Economic Partnership Agreement (IC-CEPA), which entered into force on Aug. 10. Through this agreement, Indonesia and Chile grant each other duty-free access for at least 8,000 products respectively. Indonesia and Chile traded US$274 million worth of goods in 2018, and this amount is expected to double within two or three years through the IC-CEPA.
The coming into force of IC-CEPA is timely, considering the government's integrative effort to expand exports to nontraditional markets, including Latin America. Following the global economic slowdown, penetrating new markets is crucial to maintain Indonesia's trade balance surplus.
The increasing trade volume between Indonesia and nontraditional markets has proven to cushion the effect of the recent trade war between the United States and China. Higher demand of finished goods is anticipated in nontraditional markets.
Chile is the first Latin American country Indonesia has signed a trade agreement with. After joining the Pacific Alliance as an observer state, this agreement is the next step of Indonesia's active engagement with the region. Most importantly, the agreement will allow more exports to Chile, to the benefit of Indonesia's productive sectors.
For Chile, the trade agreement consolidates its strategy to approach the Asia Pacific region. Southeast Asia in particular could strengthen Chile's presence on the other side of the Pacific. That is why Chile has made efforts to achieve greater integration with ASEAN member states. Chile has already reached agreements with Singapore ( 2006 ), Brunei Darussalam ( 2006 ), Malaysia ( 2012 ), Vietnam ( 2014 ) and Thailand ( 2015 ). Now, it is Indonesia's turn.
Chile is regarded as Indonesia's best friend in the region due to similar values. These include noninterference, democracy, human rights and the importance of a multilateral order. Defying the distance between them, the two countries have agreed on the importance of connectivity by eliminating visa requirements. While Chileans do not need visa to stay in Indonesia for up to 30 days, Indonesians do not need a visa to stay in Chile for 90 days.
In trade relations, Chile is becoming more attractive. It is a leading country in Latin America in human development, competitiveness, income per capita and economic freedom. In May 2010, Chile became the first Latin American country to join the Organization for Economic Cooperation and Development.
Trade relations with Chile should evolve with a view to gaining access to some 100 million inhabitants of the region.
In addition, Chile has signed free-trade agreements with a whole network of countries that account for 63 percent of the world population and 86.3 percent of the global gross domestic product.
As Chile could become an entry point for Indonesian products to Latin America, trade relations with Chile should evolve with a view to gaining access to some 100 million inhabitants of the region.
Chile holds a longstanding reputation as Indonesia's important trade partner in the region. For this reason, Indonesia's government bestowed the Primaduta Award on two Chilean companies — Adidas Chile and Midesa SA — in recognition of their efforts to increase Indonesian exports. They received the awards in 2015 and 2016 on the sidelines of the Trade Expo Indonesia. Adidas Chile won the same award again in 2018.
The IC-CEPA should solidify the existing bilateral trade. While already important partners, Indonesia and Chile have yet to tap the full potential of trade between them, which currently is still dominated by a handful of product types. In 2018 for instance, footwear was the main product type of Indonesian exports to Chile at $35.6 million, followed with a large gab by other products, such as fertilizer or motor cars at around $8 million.
With the IC-CEPA coming into force, more than 80 percent tariff posts of both countries have been eliminated, thus creating new avenues for enhanced bilateral trade. The main products of Indonesia that enjoy preferential access to Chile are palm oil and its derivatives, pulp and paper, food and beverages, automotive products, footwear, furniture, jewelry, textiles and others. On the other hand, some of the Chilean products with tariff-free access to Indonesia are honey, fresh fruit, olive oil, preserves and juices.
The IC-CEPA also includes chapters on technical aspects. These include sanitary and phytosanitary measures and technical barriers to trade, which mandates the establishment of a joint committee to resolve possible technical differences between the two sides. The agreement also touches on aspects of rules of origin and trade facilitation to simplify and harmonize customs procedures.
Likewise, a dispute settlement chapter was incorporated to allow the two countries to efficiently resolve possible differences that may arise in the implementation and execution of the agreement.
Improving trade relations, however, is always a work in progress. The IC-CEPA is indeed the essential modality to support Indonesia's competitiveness within the Chilean market, but the journey does not stop there. The next stage is to move forward the trade negotiation on services and investment. As mandated by the agreement, both countries also need to activate the joint committee for tackling technical issues on bilateral trade.
The 16,000-kilometer distance between Indonesia and Chile has implications for the cost and duration of shipping and travelling. Herein lies the importance of having an Air Services Agreement to provide more affordable options. In time, this will contribute to the gradual effort of transforming Indonesia and Chile as natural complementary partners.
Representing among the finest of Latin America, Chile offers indisputable conditions to favor the growth of Indonesia's foreign trade. Chile's capacity to be the entry point of Indonesian products to the Latin America market, buttressed by its internal stability, are added values that will push Indonesia's interest in entering one of these nontraditional markets. Current developments raise confidence that Indonesia and Chile will establish themselves as a platform of commercial exchange between Latin America and Asia Pacific.
---