TPP: Former WTO head Pascal Lamy says TPP benefits 'modest'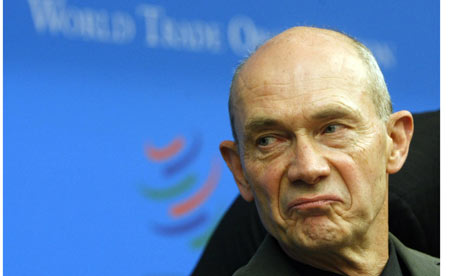 AFR | Jul 30 2015
TPP: Former WTO head Pascal Lamy says TPP benefits 'modest'
by Geoff Winestock
The former head of the World Trade Organisation Pascal Lamy predicts agreement will be reached on the Trans Pacific Partnership trade talks this weekend, but says the significance of the deal has been over-hyped.
The Frenchman who retired as WTO director in 2009 told The Australian Financial Review on Thursday on the fringes of the Boao Forum for Asia, that the importance for the world economy of the TPP would be "relatively modest".
With trade ministers of 12 countries including Australia's Andrew Robb trying to reach a deal this weekend at talks in Hawaii on cutting trade barriers, Mr Lamy said, "It's probably not worth the full-blown trumpets claiming it is the first 21st century trade agreement".
The talks were supposed to set new modern standards in trade for fair competition between state-owned enterprises and private firms and for protection of foreign investment, but Mr Lamy said the countries in the TPP were so diverse and at such different levels of development that the "lowest common denominator will not be very high".
He said the other reason he was pessimistic was that the United States was not giving any sign it was willing to make major concessions itself in order to extract concessions from the other countries.
"We still don't know what the US are going to pay. We hear a lot about what New Zealand or Japan has to pay but I haven't read nor heard much about what the US has to pay."
That came as Nationals MPs raised similar concerns about US reluctance to open its sugar imports in the TPP.
DRUG COSTS
Mr Lamy was critical of the US push to use the TPP to extend the duration of intellectual property protection for patented pharmaceuticals to as long as 15 years.
He said it was a lot longer than needed to encourage the development of new drugs and it would raise the price, including for Australia.
"Extending this to 15 years goes too far at the expense of affordable access to medicine for quite a large number of poor people."
Mr Lamy played down concerns raised by the Opposition about the insertion of so-called investor-state dispute resolution clauses into the China-Australia free trade agreement and potentially the TPP.
He said clauses which let foreign investors challenge decisions by local courts in international tribunals, were a good way of guarding against unreliable legal systems.
"If you are an investor in China would you trust the Chinese court system? I don't think so."
Prime Minister Tony Abbott told the forum the opposition's concerns about the China FTA were based on xenophobia.
Mr Lamy said he understood the anxiety caused by a case now running in Singapore where Philip Morris Asia was challenging Australia's plain cigarette pack laws, but he said the case was still not decided and there was a good chance Australia could win.
---